Family, Friends, Football and Fun
This is a Sponsored post written by me on behalf of Buffalo Wild Wings for SocialSpark. All opinions are 100% mine.
It's Fall and what does that mean to you? In my family that means friends, football and fun…and lots and lots of buffalo wings! My dad and my husband have a friendly wager of who can make (or eat) the hottest buffalo wings. Fall and Football season is the best time to bring out the grill and put them both to the test.
This past Thursday, Howard and I made a trip to Tyler to weigh-in and to pick up a few things from Sam's Club then we had to rush home to get our boy, make dinner, and get ready for Thursday night football. As we were leaving Tyler, there is was…our favorite place to watch sports and have a great time…Buffalo Wild Wings.
Seriously folks, Howard and I spent our anniversary at B-Dubs to watch the World Series. Yes, I'm writing this as a sponsored post, but I'm so totally serious about how much we love this place. No romantic dinner in this family…we want sports!
Now that Football season is in full swing, we are trying to find the right game and the right time to go to Buffalo Wild Wings for some great food, family, friends, and of course, FOOTBALL!
But…you don't have to wait for the perfect time because Buffalo Wild Wings is a family-friendly place with lots of excitement and a TV with sports on in every nook and cranny. Just enjoy a tasty meal or appetizer at your table and before you know it, you are cheering with (or possibly against if you're from the North) the crowd. Go early for the best table and stay late for the best food!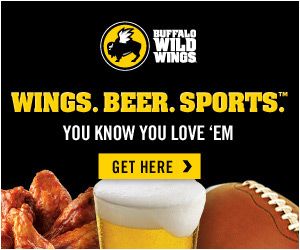 Buffalo Wild Wings wants to help you get ready for Football season by co-hosting lunch parties at home, the office, and BDubs itself. They look forward to showing off an array of promotions, including the Game Changer beer, Wing Tuesday and Boneless Thursday. 
Get social and Follow Buffalo Wild Wings on Twitter or Like Buffalo Wild Wings on Facebook!