Women's Friendship Month {Gifts for my Girlfriends Giveaway Hop sign-ups} #Bloggers
Women's Friendship Month
I don't know what I would do without my girlfriends. I have online girlfriends, "real life" girlfriends, and my besties, my Sisters are Girlfriends!! My heart is warmed to learn that September is Women's Friendship Month and you know how I love to celebrate, so I'm joining this Giveaway Hop and I hope you'll join us too!!
Bloggers: Link up and let's celebrate!!
Readers: Mark your calendars so you will remember to come back here and enter to win. Let me know in the comments below what you would love to see in this giveaway!!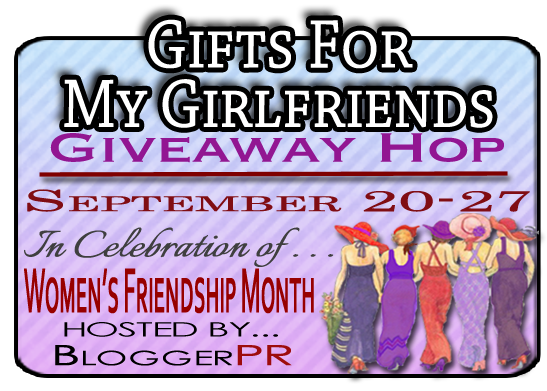 Gifts For My Girlfriends Giveaway Hop
In Celebration of…
Women's Friendship Month
BloggerPR is back with ANOTHER huge giveaway hop event! September is Women's Friendship Month, so we will be giving away prizes for your BEST girlfriends, special woman in your life, mom or mother-in-law, or simply ANY woman that has made a difference in your life!
Events hosted by BloggerPR are simple to join, fun for all participants, and always organized to make sure everyone has a chance to increase their readership and promote their giveaways in the best way(s) possible! You can also join the BloggerPR Facebook support group if you need help preparing your giveaway, general blogger support, or just want to make new friends! This is a FREE giveaway hop event for bloggers! BloggerPR events will never require pre-event promotional posts, Facebook or Twitter shares, or sidebar buttons.
---
EVENT NAME: Gifts For My Girlfriends Giveaway Hop
DATES: Gifts For My Girlfriends Giveaway Hop
DEADLINE: September 17, 2012 (11:59pm EST)
FEE: FREE!
HOW: Head on over to the official BloggerPR website and sign up today!