Treat your pet with Vet Depot {Review}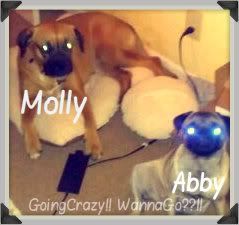 When I met my husband, I had two cats who were the absolute loves of my life to that point. They were my babies and my best friends (I know, sad existence

). I never considered myself much of a "dog person" although I loved going to visit my dad and playing with their dogs. Hubby grew up with cats and dogs and he wanted to get a dog.
Pepper, Molly and Abby
When we found out we were pregnant, we bought a Puglet and named her Pepper. Unfortunately, about two months after our son was born, Pepper was hit by a car and we lost her. It took me a long time to get over Pepper and that is when I really knew that I must be a "dog person" after all.
The Christmas before last, Hubby and I finally decided that it was time to find a dog for The Boy. I was very tempted to get another Puglet and Hubby wanted a big dog that would protect our house. Since we couldn't really agree on which one to get, we got both!! Molly is a German Shepherd/Boxer mix and Abby is a Pug. They are good friends and they both treat our boy like he is king. Of course, that means that they try to trample him all the time, but he gives them back what they dish out.
World War Flea
As with most animals, our dogs have attracted fleas. I actually think that they got them from the neighbor because Molly tends to jump over the fence and play with them and then we have to go fetch her. So, Molly got fleas, then Abby got fleas, and now we are fighting fleas all over the house!! We were so grateful when we were contacted about reviewing VetDepot.com and were able to receive a product for our dogs.  We received a box of K9 Advantix from Vet Depot in exchange for a review of the website.
Topical Flea and Tick Treatment Medication for Dogs

K9 Advantix II is a topical flea and tick control medication for dogs and puppies 7 weeks and older. K9 Advantix pet meds kill 98-100% of fleas within 12 hours of application and prevent future infestations for up to 4 weeks. Advantix flea is effective against ticks, mosquitos, biting flies, and lice too. K9 Advantix II is sold in 4, 6, and 12 month packs for dogs up to 10 lbs, 11-20 lbs, 21-55 lbs, and over 55 lbs.
---

VetDepot.com
America's trusted source for online pet medications, pet supplies and pet food. We offer the exact same FDA and EPA approved pet meds that your local veterinarian does, but at savings of up to 60%. We carry all leading brands, including Frontline Plus, K9 Advantix II, Advantage II, Dasuquin, Greenies and Heartgard. We also offer fast and free shipping to your door on most orders. 
With my family's busy life and out sometimes limited income, we are always looking for a great way to get what we need to keep the dogs healthy without spending lots of money and making lots of visits to the veterinarian.

Molly was a rescue dog and she needed a little TLC when we brought her home. We gave her some vitamins and some clean coat shampoo. We fought fleas back then as well and basically, we spent a lot of money on her. I looked around at some of the same products that we bought from our local pet store and even though our pet store is not a chain store, we still could have saved quite a bit by purchasing through VetDepot.com.
Abby was the runt of her litter and her owner basically had to nurse her to health before allowing us to adopt her. We knew that we would need to feed her high quality food when we got her, along with vitamins, to keep her healthy. Also, I'm not sure if this is a Pug thing or not, but Abby has an area on her back, just above her tail, that she tears up to the point of bleeding and scabbed over. We have to buy hot spot cream for her skin all of the time and if we want the good medicated kind this can get very expensive. I was happy to see that VetDepot.com has a great selection of Hot Spot medications.
Shop Today
There seems to be quite a few advantages to shopping online at VetDepot.com and I would definitely recommend looking around, especially if you have a "special needs" pet or if you have lots of pets and your expenses are getting too high.
Shop With Confidence – We Guarantee It!
Follow Vet Depot for the latest news and information:
Visit VetDepot.com and tell me what you would buy to save money on pet supplies!!
Disclosure: I received a product as part of a campaign with Living Your Moment in order to write my review. All opinions are mine and mine alone. I am disclosing this in accordance with FTC 16 CFR Part 255 concerning the use of endorsements and testimonials in advertising.