SIMPLE Service Project with Odwalla Game Day Challenge
This year is the first year that my son will be participating in team sports. We signed him up for T-ball last week and I have been dying to get the call about when practices start!! We are a sports-oriented family and my son is a sports fanatic. He LOVES every sport and will tell you it's his "FAVORITE", no matter what it is (yes, even golf and tennis).
In our home, there is always a divide between Texas and Michigan because I was born and raised in Texas and my husband is from Detroit. He is all about hockey and the Detroit Redwings!! I'm a football fan and my blood runs Burnt Orange. I'm a die-hard Texas Longhorn and Dallas Cowboys fan!! Our boy – he just loves whatever sport is right in front of him!!
I want to start my son out right in thinking about sports and giving and I want him to know that not all children are fortunate enough to have every type of sport at their fingertips. I found a great way to teach him about this through the monthly
Champions for Kids SIMPLE Service Projects
This month the SIMPLE Service Project is
Odwalla: Game Day Challenge
We've decided to organize a sporting equipment drive with his new T-ball team!!
Since April is Child Abuse Prevention and Awareness Month, I thought this would be a great time to make a large donation to the Rainbow Room at my office – Texas Department of Family and Protective Services (Child Protective Services).
Rainbow Room
The Rainbow Room is an emergency resource center available to CPS caseworkers to help them meet the critical needs of abused and neglected children. To find out more about Rainbow Rooms in Texas, visit Greater Texas Community Partners.
Sports Equipment Drive
The Boy and I had to go on a shopping trip to get prepared for this equipment drive and since we were going to Tyler anyway, we thought we would just combine trips and shop at Walmart in Tyler. We headed out in the morning and went to Walmart Store #1022.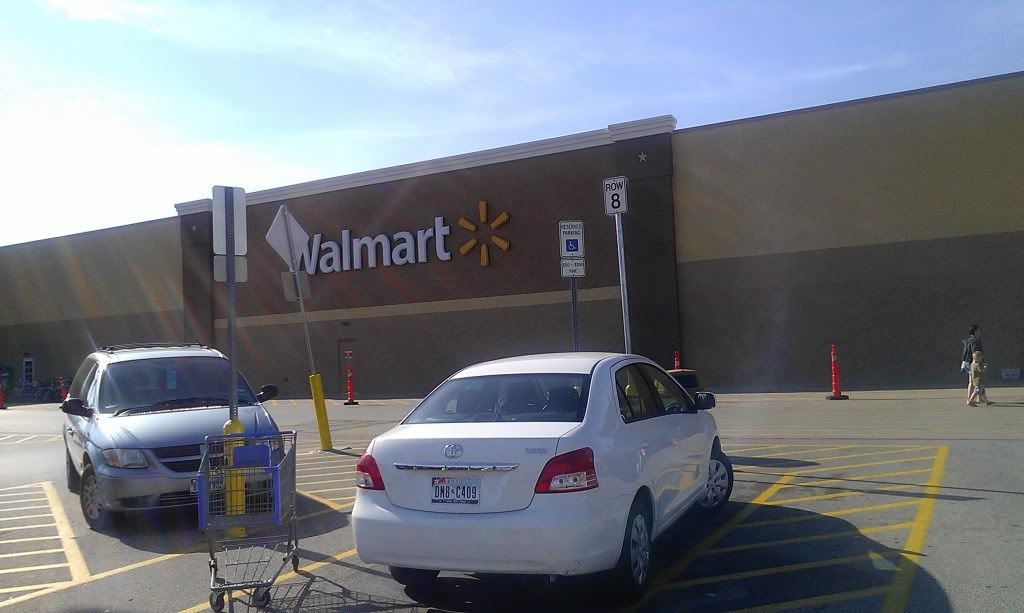 I explained to The Boy that we would be shopping for other boys and girls who don't have toys and he was really excited about it. We have talked about donating before when cleaning out his play room, but he has never had the chance to shop for other children.
Just inside the door of every Walmart in our area is a Children's Miracle Network container and we always have to stop and drop in some coins. He loves to watch them go down, but he also knows that it's for other children so he was even more excited to put coins in this time.
Next, we headed over to the toy section to see what we could find. I explained to him that we would pick out a few things for the drive, we would find some of his sports equipment from home, and then we would make a poster and ask others to donate as well!!
He picked out some great toys for the equipment drive and we got him a couple little treats as well. This is the haul we picked up!!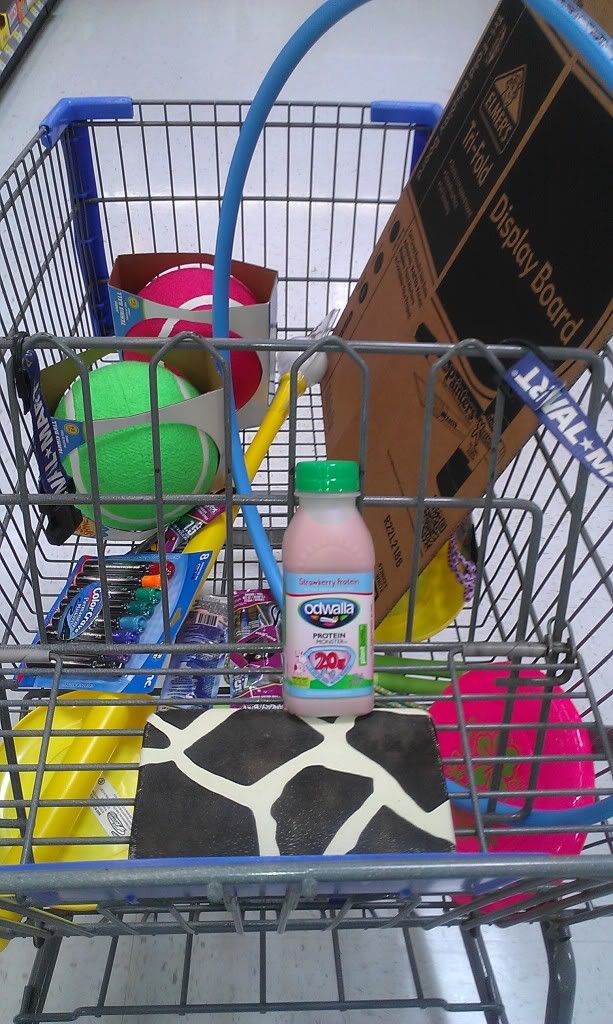 Since this challenge is sponsored by Odwalla, we decided this would be a great treat for the families who were willing to donate during the equipment drive. The Boy and I have never tried Odwalla although I've seen lots of coupons (during my big coupon days) for it and I've always wanted to try it. My husband worked for Whole Foods for several years and he says he used to drink it every day to get energy. His favorite flavor was Strawberry back then, but he hasn't had it in many years.
We headed over to the juice section of Walmart to see what flavors we might like. I picked out a Strawberry and The Boy decided on Blueberry. He called it a "snoovie" and said it was like in Fresh Beat Band!! He was excited to try it.
Once we got home, we gathered up some of his used toys to add to the donation. This is the box that he picked out of sports equipment to give away (and yes, we have at least this much still at home!!).
So we have some new sports equipment, some gently used sport equipment, a poster board and some new markers to make a sign for a sports equipment drive. When it's time to get the new T-ball team together, we'll head out for some more Odwalla and hope for the best!! We are so excited to meet his new team and have the opportunity to give to the Rainbow Room!!
Check out my full shopping experience in my Google + story!!
Find out more about the monthly SIMPLE Service Projects on the Champions for Kids website or follow all of the projects on Champions for Kids Facebook and Champions for Kids Twitter!!
What type of project can you do to help your community?
How would you complete a SIMPLE Service Project?
This shop has been compensated as part of a social shopper insights study for Collective Bias #cbias. All stories, pictures, and opinions are completely my own.