Featured Newbie Blogger @snipshopsave

Week 36 Featured Newbie Interview
It is the time when we post our interview with our "featured newbie blogger." We mentioned last week that it's always nice when a blogger is so excited to be featured. Well, this week's featured newbie blogger is sooo excited she made a post about it!
Read further to get to know more about Tina at Snip Shop Save!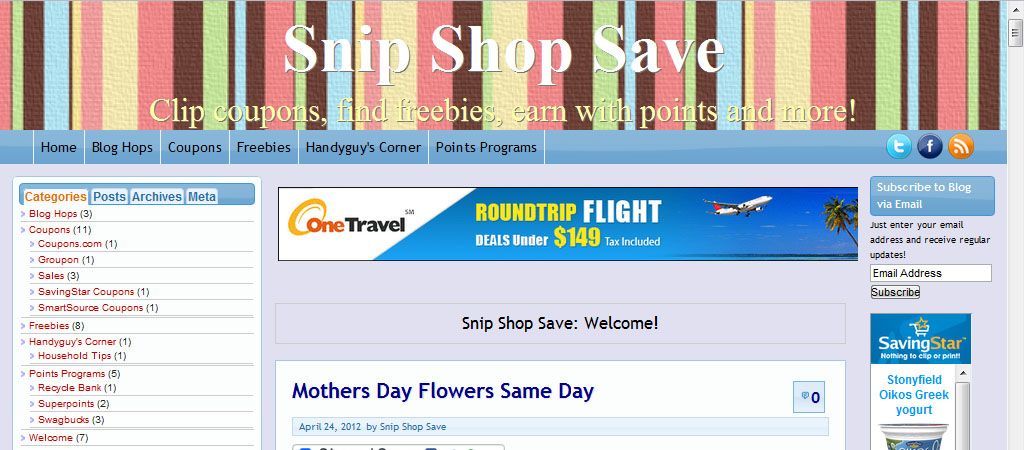 Tell me a little bit about yourself and your family.
I am a 43 year old woman who has decided it is time to go back to school again, this time to go from being an LPN to an RN. My husband is in school part time as well. We have 4 kids (well I guess if you count 2 cats and 2 black labs)! I crochet, garden, play on the internet, and love video games. We love to travel, but with school don't get to do much right now.
Do you have more than one blog? If so, tell me about them!
I only have the one blog at the moment, but I do have another domain that when I get the time it will be up and running as well.
How long have you been blogging?
Talk about NEWBIE, how does 10 days sound? I have always liked writing though.
Why did you start blogging? Is this also why you continue blogging?
I enjoy writing, and scouring the internet for money saving ideas and like to share those saving tips with others. The scouring of the internet is like a jigsaw puzzle to me, and I just can't quit once I get started. I am totally addicted.
Who does your blog appeal to? Is this who you thought would be your target audience?
My blog applies to anyone who wants to find ways to make money doing everyday things, or saving that money in a simple way. You don't have to go all out and get a big coupon binder to save a few bucks. Every dollar in this day and age counts.
What direction do you see your blog going in the future?
I can see my blog leaning towards the money saving ideas, household tips, handyman tips from the hubby, and probably a bit about his bike trips he goes on as well.
What is the biggest challenge you have faced so far with your blog?
The hardest part of the blog is finding ways to draw traffic to the site. That is why I started the blog hops and they definitely help to draw traffic!
What do you love about blogging?
I like the writing of the posts, but coming up with ideas, or sticking with one while my mind goes in a dozen different directions makes me crazy.
What do you NOT love about blogging?
Not having enough time in the day to write and read all the other blogs that I get lost in on my search of freebies and money savers.
What types of product reviews and giveaways do you feature?
I haven't really done any product reviews and I haven't ventured into the giveaways yet either. If someone would like to explain the giveaways and how they work a little better, I am more than willing to listen.
What was your favorite product to review?
I tend to like the points and loyalty programs because if you fit a couple of them together just right, you can get things for almost nothing. See my post about points and loyalty programs.
What advice do you have for those wanting to get into this or up the value of their giveaways?
Do your homework and blog about something you are passionate about. Join the blog hops and don't be afraid to ask questions. Most of the bloggers out there are more than willing to help out.
Besides your blog, how else can people find you? Which method is your favorite/least favorite?
I am on Twitter, Facebook and Google at the moment, and I just can't figure out Google.
Share your top 3 favorite posts from your blog.
Points Programs Really Do Work

I won the Lottery

Earn Points with SwagBucks
Do you have a weekly, daily, or monthly Blog Hop or Meme that people should join in? Tell me about it and share an info link.
I don't host my own, but folks can check my site to see the ones I have joined. I have a couple more that I will try to get listed tomorrow. Totally Tuesday Blog Hop is the most recent.
How do you find time to blog?
Well, I do it when I have time. That is my story and I'm sticking to it. Ask the hubby and he will say I just don't sleep.
What else would you like us to know?
I have a goal of trying to get 100 Twitter followers by the end of May, and 50 "likes" on Facebook. The hubby gave me the challenge of doing it by yesterday morning, and it just didn't happen, but I want to make the next one (I have been told there is a lobster dinner to be bought by me if I don't)!
What is your best advice for a Newbie Blogger?
Best thing I can tell a newbie like me is don't get frustrated over the traffic to the blog. It will come, just be patient and join in on the blog hops and have fun!
---
If you are a newbie or feel like one, come link up with us on the Newbie Blog Hop every Tuesday at 9:00PM CST. You may find blogs similar to your niche and get inputs from. Also, you may be featured next! Join our Newbie Blog Hop Facebook Group.