What is Love and Boredom?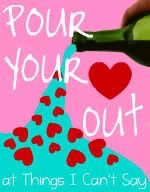 Last night Hubby and I were watching Intervention and the alcoholic single mom was explaining how she went from Super Mom to Alcoholic Mom and something really strange came out of my mouth…and now has me a little worried.
She was explaining that she was a great mom and very involved in her children's lives. She loved them with everything she had and there were lots of pictures with her and the children and her husband. She went on to explain that suddenly her husband began to go out on the weekends with friends and would leave on Thursday, toss her $100, and not return until Sunday evening.
Hubby looked at me and said he was wondering why that would make someone become an alcoholic and my reply just shocked me.
"If you went away on the weekends and tossed me $100, I would just grab the boy and go have some fun!!"
Oops, what is that all about?!! I wouldn't miss my husband?!!
I don't know if this is really true, but there is a part of me that is afraid it might be. I'm pretty sure that some of that feeling stems from my weekends during the past year consisting of (a) waking up early and waking the boy to take Hubby to work, (b) playing with the boy while waiting for Hubby to text me on his break, (c) playing with the boy while waiting for Hubby to need a ride to lunch and back, (d) taking a nap with the boy, but waking up in time to pick up Hubby, and (e) balancing between hanging with Hubby while he watches TV to relax from his day and playing with the boy.
I think the boy and I are stir-crazy and I'm becoming resentful over having to be available at all times to give Hubby a ride to/from work/store/wherever he wants to go. He gave up his truck over a year ago so we could get our finances in order and we've been a one-car family since then. He doesn't know how to drive a manual shift so I do all the driving back and forth. What he did at that time was best for our family, but my resentment/exhaustion/boredom is getting old now.
I hate that this one statement in one episode of Intervention has me thinking so much about my relationship, my marriage, my feelings about my husband.
I don't want a husband bashing discussion, but what do I do to change things around here?!!