Save money with BradsDeals!!

It's my birthday!!
Today is my 35th birthday and I am away from my family for the day (out of town for work). This time of year family is always on my mind because several of my family members have birthdays. While this is fun and all, it can be a strain on the bank account. Let me tell you about one way I've found to save some money!!
BradsDeals has printable coupons, online coupons, and internet deals where you can find something for everyone you know!!
My stepmom is the first family member in the month to have a birthday (March 5). She is a home decor junkie and is always changing something around the house. I was able to find some great bed bath and beyond coupons for free shipping and clearance bedding. All I had to do is click on the coupon and head straight to the website and start shopping!!
Next, my niece turned 15 on March 15 and I needed something really fun for her. I found some great kohls coupons for gift cards and free shipping and I know she shops there for fun clothes. While I was there, I saw a fun Kohl's deal for these Kids Disney/Pixar Cars Snow Boots on sale from $44.99 to $13.99 at Kohls.com, plus add the code SMS2727 and they drop to $11.19.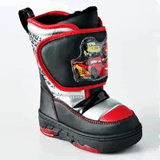 My boy's birthday was last month, but these are just too adorable!!
Next on the list is me, of course, and I need a new computer. I searched the dell coupons to drop some hints for Hubby.

Finally, my dad on March 27. He's a handy-man type of guy and he just loves getting gadgets and tools. I looked through the sears coupons for him and found way more than deals on tools. I found coupons for bedding, toys and games, and a great deal on some new slippers for me…oops, I was supposed to be shopping for Dad!!
BradsDeals is a great place to look for coupons and deals and it's so easy to use. Even more than that, BradsDeals seeks to keep you in the know about the best deals around. Follow BradsDeals on their social media for the lastest and BEST deals and coupons!!