The Family Bed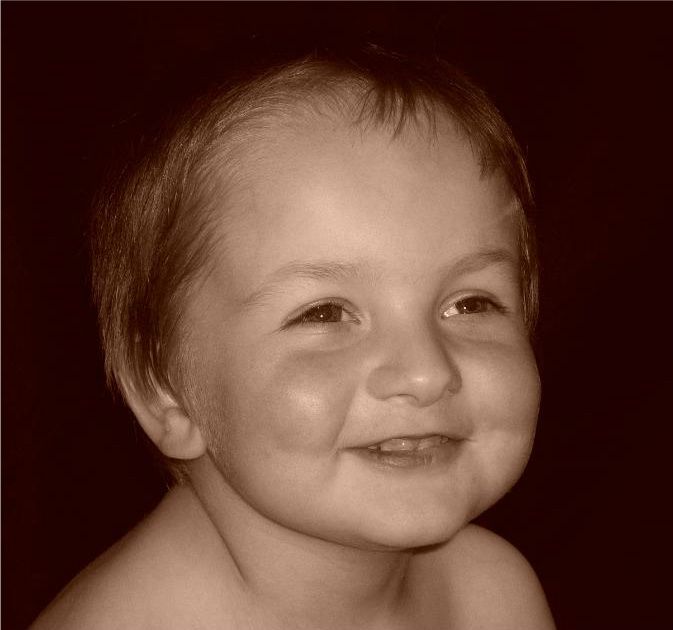 I have been wanting to write about this for some time and I just kept putting it off because I wasn't sure what I was going to write or if I was going to get statistics and figures for you. This is part of my problem with writing…and talking, really. My dad once said that I think about what I'm going to say for so long that by the time I actually say it the conversation has already passed. Well, today Mommy Mindset inspired me to just put it all out there, write the post, and forget all the facts, just be me!!
See that sweet little boy at the top? That's my boy!! He's turning 4 next week and I am proud to say that he sleeps in our bed. And I have no desire to change that any time soon!!
When Hubby and I met, we were both large people (still are, but we're working on that). He moved in with me in my apartment and was not comfortable sitting in the living room on my furniture. We would often watch TV in the bedroom and just hang out in there (minds out of the gutter, please). When we moved into a house, we tried having the TV in the living room again, but it just didn't work. He's just more comfortable in the bed. We've lost weight and got two large recliners and a big screen TV from my dad, but it's just become habit to "live" in the bedroom.
My little family spends a LOT of time in the bedroom. If we're home, and the boy isn't playing in his play room, we're spending time together in the bedroom. Now, we have a large King-sized bed and a larger TV in there. We eat there, do crafts there, I blog there. It's just our "family room".
I know it's different. When I was growing up, I went to visit a friend and her family was like this. I can remember sitting on the end of her parents' bed, eating pizza, thinking "this is so weird". About a year ago, we lived in an apartment for just a few months between rental houses and the neighbor boy upstairs spent the night with us when his dad had to work overnight. He was about 8 years old. That kid laid across the end of our bed watching cartoons with our son until it was time to go to bed and then we tried to get our son to go sleep in a tent in the living room with him, but he wouldn't go. I can see how that is going to be strange when our boy starts wanting to have sleep-overs.
Now, here's why I thought I was going to need statistics and all that…I am a Child Safety Specialist for Child Protective Services in Texas. According to Safe Sleep trainings I have attended (and taught) babies are not supposed to sleep in their parents' bed. The risk of rollover and SIDS increases dramatically (I don't have the figures) and it's just not safe.
So…I will tell you that our boy did NOT sleep in our bed until he was about 2 years old. I actually never would have dreamed that he would be in our bed at this point. It's just not how I was raised. We had a bassinet for him for about 2 months and then moved him to his crib. He never had a problem with either for the longest time. When he was about 14 months, we moved from the house we were in when he was born to that little apartment. In that apartment, he moved from his crib to a toddler bed and stopped using a pacifier. We were on a roll!! There were nights when he would cry and we would bring him to the bed, but mostly we would just go tell him we loved him and put him back to bed. He couldn't open the door so he would just fall asleep. About a year ago, we moved to a new house and he got a new toddler bed (Papa bought him a race car bed) and I don't think he has slept more than 2 nights in that darn bed.
Hubby and I have tried but we just don't have the strength to keep putting him back in bed, screaming, and leave him there. We also had an issue with our foundation in the rental house and the doors wouldn't latch closed so the boy can get the door open without trying. Heck, even the dogs would worry about him and push the door open..ugh!!
It's just been the last few months that I have really come to peace with the idea of the Family Bed. I started taking the time to evaluate our family time together and it's just so limited sometimes. Hubby and I work and the boy goes to daycare all day. Sometimes we get home after 6pm and it's time for dinner, bath, and bed, just like that!! Since our bed has become our living area, it just feels right for us at this point in our lives. It just warms my heart to have dinner, get in jammies, watch a show together, watch my boys wrestle around while I blog, turn the lights out so the boy can sleep, and then spend time with my husband while the boy sleeps between us.
I should mention that there are times when we move him after he falls asleep so we can have intimate time together, but there are other times when we take our intimacy into other rooms just so we don't have to move him. A few times when we've moved him, he has stayed in bed until 5am or 7am, but normally he's back by 1am or so.
He's a cuddle bug, but so am I and we just cuddle together all night. This morning, in fact, Hubby said he woke up and the boy was laying across me, head on my back, and we looked so peaceful.
Who wouldn't want to cuddle with a sweetie like this?!!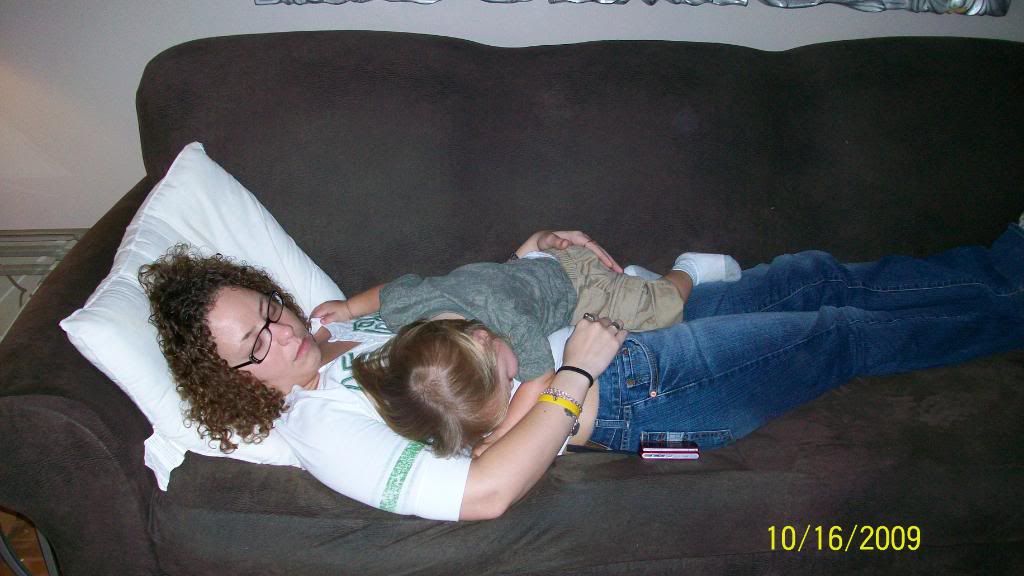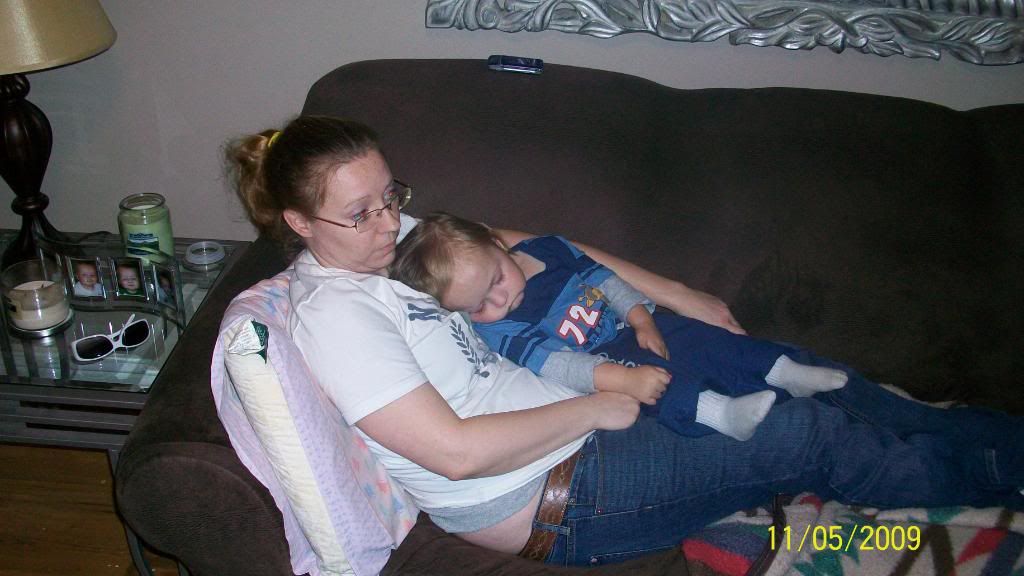 Crashed out with Aunt B and Aunt K.