Support New Bloggers Cash Giveaway – Win $145 CASH!!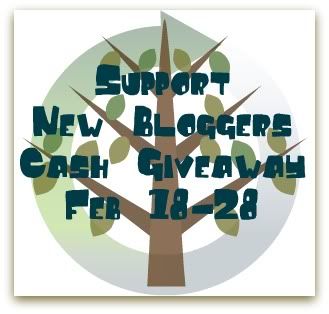 If you hang around my blog at all you know that I'm a new blogger and I love helping out other new blogger. So when Kathleen from Callista's Ramblings had an idea for a giveaway that would support and boost New Bloggers…I was all in!!
This giveaway is sponsored by ALL NEW BLOGGERS!! They were either started in 2011 or 2012 or they still had low number of followers. Your hosts for this giveaway are Kathleen of Callista's Ramblings and Janet of Going Crazy!! Wanna Go??
One person will win $145 deposited into their PayPal account. The giveaway is open worldwide to anyone 18+ who has a PayPal account. Use the rafflecopter form below to enter. Be sure to read all instructions and especially the terms and conditions.
You have until Feb. 28, 2012 at 11:59 PM EST.
Please take the time to visit the other participating blogs:
Juliana's Bits and Pieces, Bay Area Mommy, Giveaway Promote, Ohayo Okasan, Sara Lee's Deals and Steals, Mini Farm Sustainability Project, Ms Angela's Finds, Life's Cheap Thrills, The Mystic Kitchen, My Simple Walk, Monkey Mayhem, Cheap is the New Classy, Five Kids and Crazy Me, Layne's Thrifty Finds, The Kids are Grown, Now What?, My Charmed Mom, Of Limes and Lemons, 4 Sassy Girlz, Karma Media Team, Giveaways and Glitter, Living the FantabuLESS Life, A Pear of Sisters, June Bug Mom Blog, Been There Done That With Kat, The Ladies Lounge, Written by Mama, Giveaway Hog.