Saturday Fun with Mommy and The Boy
It was Saturday morning at the K household. Mommy had been up late working blogging playing on Facebook and was very tired. Daddy had to be at work at 7am so the family had to get up and drive him to work. B didn't want to get up so he kept cuddling in the bed and covering his face so Mommy was really hoping that B would just want to come back home and go to bed. During the 2 mile drive to take Daddy to work, something happened to B and he was bright-eyed and bushy-tailed. He was being silly and playing with his penguin and Mommy could just tell…it was going to be one of those days.
Mommy: "B, let's go home and cuddle in the bed. Do you want a donut or a biscuit before we go home?" (Puuuu…lease!!!)
B: "Mommy…I just want go home and cuddle in bed and we watch Phineas Ferb."
Mommy: "Okay!" (Yay!!)
Ah, Phineas and Ferb to the rescue and Mommy gets to relax a little longer and slowly sneak a peek onto Facebook, email, blog, Facebook…oops, too long, B noticed…
B: "Mommy…you want come play in my room, I hungry, I stirsty."
Mommy: "You stay here and start watching Jake and Pirates, Peter Pan, and I'll get some juice and breakfast." (that's an hour long and then I'll think of something fun for us to do)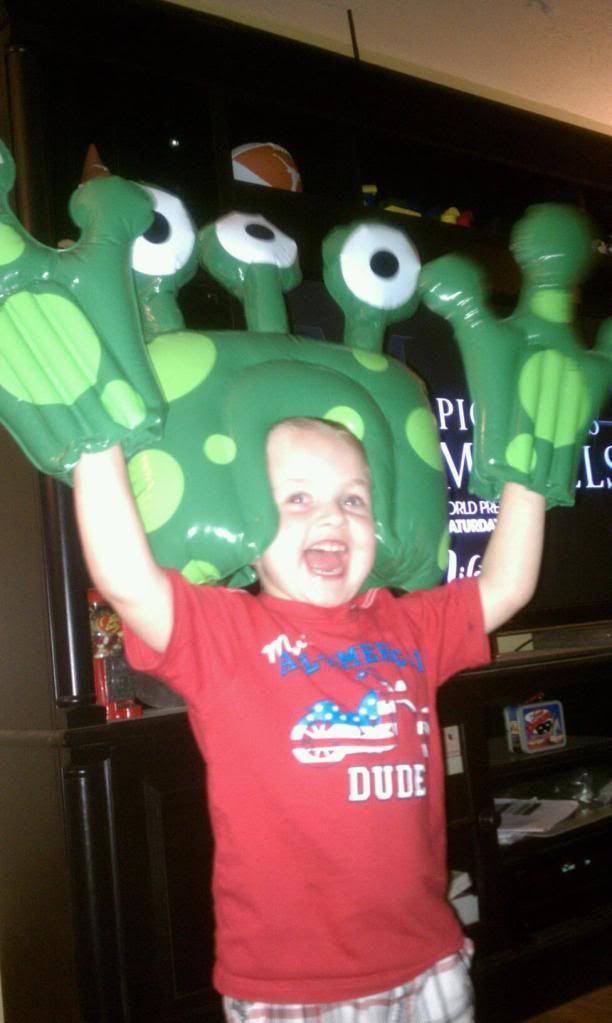 B: "Mommy…you want come play in my room?"
Mommy: (Oh crap, I was online again for an hour and still didn't really accomplish anything AND I haven't thought of anything for us to do yet) "Sure, let's go play, what are we going to do?"
B: "You want sit on my book box and play train and I play train and motorcycle and, and…"
This is fun! We're playing trains and the Superheroes are saving the circus animals from falling off the train cars and the motorcycle crashes into the train and…"beep"
Mommy: "Daddy's on break and texting me. I'll be right back"
Daddy: "How's it going, babe?"
Mommy: "We need something fun to do to get out of the house."
Daddy: "What about Kids Depot? Come by and get some money and I'll get a ride home for lunch."
Mommy: "Okay!!" "B, let's get showered and dressed and let's go to Kid's Depot!!"
B: "Wahoo!!" (yes, he really says "wahoo" :))
An hour and a half later, we've picked up a few bucks, grabbed a snack, and driven the 45 minutes to Kid's Depot.We missed it 3 times because this is Mommy's first time here and B has asked about 500 times if we are at Kid's Depot yet.
Mommy: "We're here!!"
Hmm…this place is a little bit more run down and smaller than I thought. I hope there are other children here that B can have fun playing with because I may not be able to get in all of those tunnels. Where is the front desk person and why isn't there anyone watching the front? What if someone's child wanders out the door or someone decides to leave with someone else's child? Why aren't they as safe as Chuck E Cheese where they stamp your hand like your child's and verify before you leave the door? I should have thought to bring one of those Tig Tagz that came in the mail yesterday for review. That would have been perfect!
I wonder if I should have just left the book in the car. I thought he would want to get on the toys and play and I would watch from a seat and read a little, but now I don't know because what if he wanders out the door!
B: "Mommy, why I take my shoes off? Let's go play."
We check out the video games which are mostly broken, thankfully, because that costs additional money and I didn't really get THAT much from Daddy.
B: "Mommy, look"
Mommy: "You're such a big boy." (How adorable, he is jumping on the padded floor and playing with a large ball. He is running back and forth and looks like this is going to be great! I'm going to sit on this bench and open the book and see what happens. Page 1…)
B: "Mommy, come in here and play."
Book down, shoes off, in the padded walkway…
B: "Let's go over here."
Pick up shoes, pick up book and backpack, across the room to the smaller kids' area. This is nice. It's an area for 36" or smaller, has a ball pit, a small slide, and a rocket playhouse. Open book…Page 1…
B: "Mommy, come play balls."
Book packed in backpack, sweatshirt off, shoes off, in the ball pit. This is fun!!
We try to see who can make a circle with their legs and stack the balls the highest before they all go rolling away. Another little girl comes and she wants all the pink and purple balls. Another two children and Mommy has to get out because now there are too many children for Mommy to still be in.
Oh, look, B has made a little friend. She is putting all the balls in the rocket playhouse and says they are filling it up with gas. Suddenly, she's rolling the balls down the rocket's slide and B is trying to catch them all. He is giggling his head off and this is hilarious.
Uh oh, the girl has to leave the area to go to the birthday party she is attending here.
B: "Let's go over here."
Okay, he wants to go back to the big area where there are lots of tunnels and slides and oh…there are a TON more older children here now and they are wild. They are running everywhere…what am I going to do?
B: "Mommy, come up with me. Come help me."
Okay, I can do this. I'm going to help him up this ramp and maybe over the bridge, but there is no way I can get in that tunnel. Now, we're up here and he's thrilled!
Mommy: "B, just go thru these tunnels and you can see me through the windows and then when you come out, I'll be down on the floor."
B: "Okay, Mommy"
Now, I made it down and that was really not as easy as if I had just gone thru a tunnel and down a slide, but oh well, I'm down here now. Where is my boy? I know he went thru that yellow tunnel and then there is a curve into the pink, but I wonder if he went to the green or blue after that. I'll just stand right here and watch this corner.
Hmm…it's been a while and he hasn't passed this corner. He should have been past here by now. I'll go check on the other side and see if I just missed him. Nope. Okay, let me check the other side. Nope. I wonder why these tunnels don't have more windows or some type of see-thru to them? I'll head back to the corner where I know I left him and wait. He'll come down a slide soon.
Wait, he's a little bit afraid of slides, especially tunnel slides. Hmm…
Oh, and he's a little afraid of older children who run around rowdy and loud, too. Hmm…
I wonder if he's stuck in a tunnel, scared, and doesn't know what to do. Maybe he would yell for me or I could hear him crying. WHY IS IT FREAKING SO LOUD IN HERE?! Oh yeah, there are 3 birthday parties going on and at least 50 children running thru these tunnels.
Oh, crap! I forgot about the unattended front door! I need to stand in a place where I can see the tunnels AND the front door. How long has it been, like 2 hours now?!! (Probably more like 10 minutes)
Back to the corner where I "left" him and I can see the front door a little. Is that him back in the small children area? Nope.
Oh, oh, oh!!! I just saw him thru a window!! He half smiled at me and kept crawling. Ugh!!
Oh, there he is again!!
B: "Mommy, I go on slide now."
Mommy: "Good, big boy, I'll go to the end of the slide and catch you!"
Oh good, I can see him making his way up to the slide and as I look up into the tunnel I can see him and he can see me and that will make him feel better about coming down to me. I'm also glad I put him in those slippery sweat pants so he can't make himself stop in the middle. I won't have to coax him down.
B: "WEEEEEE!!!! Mommy, I went thru tunnels and found the slide!"
Mommy: "I know, big boy, you did great!"
B: "Mommy, I hungry."
We stopped to eat a slice of pizza and share a soda. Ten dollars for two slices and a medium!!
B: "Mommy, I go back in there?"
Mommy: "Okay, are you going to slide again?"
B: "Yes, come watch."
Here we go again. It's going to be okay though because I've made it thru this once and he seemed to be unphased and we survived. Only this time he went in a different tunnel to a different slide and disappeared very quickly. When I go around to the other side to watch I see him coming back down as if he's scared, but then he heads back up to try again. I can see him pass thru a rocket corner a couple of times and then I stop seeing him.
Oh, dear, here we go again…5…10…15 minutes. Why are there so many loud children in this place? Why are these parents all chatting it up and yelling across the room to other parents and laughing while our children are lost in tunnels and they can't find their way out?
20…25…30 minutes. Seriously?!!
The older lady who has been sitting on that bench watching me pace the floor and go from corner to corner and back and forth just smiles. I can't help myself and say, "he hasn't come out and I haven't seen him". She smiles and says it will all be okay and he will come out eventually.
What does she know, anyway? My boy JUST turned 4. He's quiet and not usually rowdy. He doesn't like high places or tunnel slides. He doesn't have good balance so he gets scared. He JUST learned to jump in the air with both feet off the ground. I think he's scared and stuck and crying and nobody can hear him over these REALLY LOUD CHILDREN ALL OVER THIS PLACE!!
Oh no…he was also acting like he needed to poop this morning, but wouldn't go. We haven't mastered that yet so what if he is hiding in a tunnel to get the poop out? Ugh!!
Okay, I swear it's been an hour now (probably at least 30 minutes) and I can't do this any more. I'm going to sit right here on this bench and he will…
B: "Mommy!!!"
THANK YOU, DEAR GOD, MY BABY BOY IS OKAY!!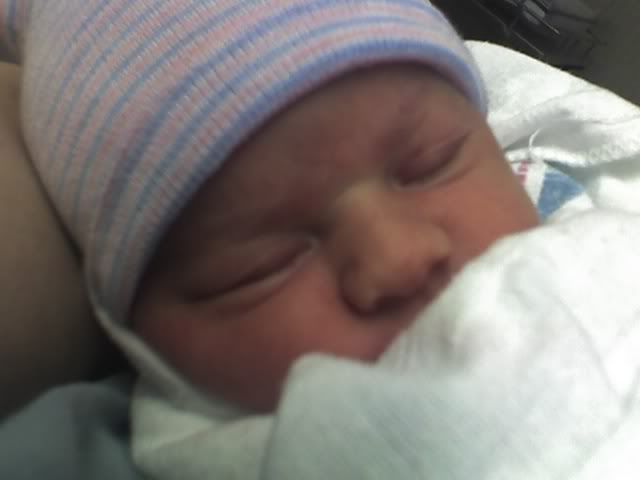 Mommy: "B, you big boy, where did you go?" (He came from a different side of the room from where he started.)
B: "Mommy, I went up and around and looked for that slide, but I not find slide and then I find bridge and I go there and there and then I come find you! I go up again…?"
Mommy: "Oh no you don't, we're going home!!" (As I bear hug him and hug him again and kiss him and try to put him down, but give him one more hug before I put him down to gather our stuff)
Have I become that neurotic Mommy who can't let her child go for just a few minutes without freaking out? Should I have just started reading my book and kept my eye out for him? Am I going to be a "helicopter mom"? What is a helicopter mom? Am I going crazy here or do you all know what I'm going thru?
Have you had an experience like this? Tell me about it!!