Newbie Blog Hop – Week 26

Welcome to NEWBIE BLOG HOP Week 26
Hosted by Going Crazy!! Wanna Go?!! and Life's Cheap Thrills.
Happy Valentine's Day! I hope all of you are celebrating the true meaning of love with the special people in your lives! Ready to spread the love across the world wide web?
Each week at the Newbie Blog Hop, we feature a blogger who has linked up the previous week. If you'd like to be featured see details at the end of the post!
Featured Newbie: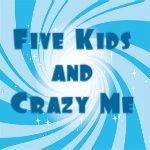 Five Kids and Crazy me is owned by Melissa, a stay at home mom (SAHM) of 5 wonderful little children named Ashlynn, Riley, Robbie, and the twins Abigail and Brittany. She is married to a video gaming, Spiderman fanatic named Stuart. Melissa was born and raised in Missouri and moved to South Carolina when she turned 19. "I worked part time in Missouri, and full time in South Carolina until I had my children. Now I work overtime every day!"
Watch out for our full interview with Melissa on Friday at 12:30pm CST.
In the meantime, catch her on Facebook, Google+, and Twitter.
Five Kids and Crazy Me has recently reached 500 fans on Facebook and Melissa is celebrating it with a giveaway!
Her $5 Amazon GC Giveaway ends tonight at midnight EST but you still have time. She will pick 3 winners if she hits 500 fans!
---
Are you a new blogger or do you feel like one? If you are interested in participating in the Newbie Blog Hop you can read more about it on the Newbie Blog Hop "Rules" page. Also, join the fun in our Facebook Group. Link up below and meet our fellow newbies!