Howard B Wigglebottom Listens to His Heart Review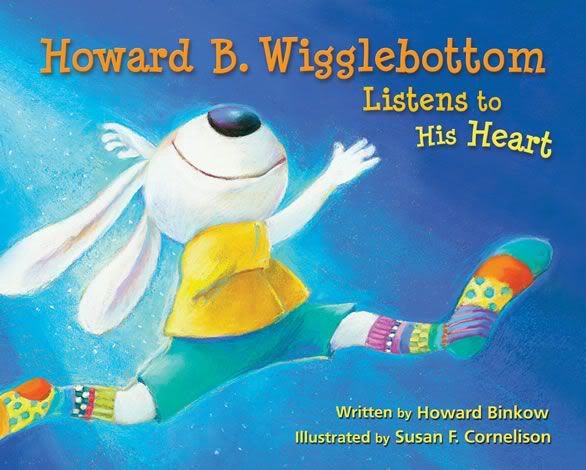 You all know how much my boy loves to read and we have yet another Howard B. Wigglebottom book to tell you about!!
Our boy was so excited to see Howard B. again in our mailbox. He sat and read the book over and over to himself before he would even let me see it and read it to him. He thinks Howard B is so silly and he just loves the fun animation.
I love the stories. Howard B. Wigglebottom Listens to His Heart is about being yourself and doing what makes you happy no matter what others think. Howard B. loves to dance (just like my boy!!) but when he dances his friends laugh at him. Howard B. decides that he will no longer dance, but will try other activities to be more like his friends. He is not as good and does not have fun. When he tells his Grandpa about his worries, he learns about his ancestry and how much his family line loves to dance!!
Howard B. learns to be himself because that is what makes him happiest of all.
My boy is a little…different…than many of his friends. He does not like to be loud and wild and he loves music and singing and dancing. He's very sweet and loves to help his teachers at daycare. I can see that as he grows up, his difference could cause him to be picked on (I hope not, but I could see it happening) so this is a great story to start teaching him now.
In the back of each Howard B. book there are Suggestions for Lessons and Reflections and in this story the suggestions are (1) The Heart, (2) Confiding In an Older Person, (3) Self-Esteem, Inclusion, and Acceptance, (4) Trying Different Things for the Fun of It, and (5) Connecting to Your Roots and Family Legacy.
Howard B. Wigglebottom says
"BE PROUD OF WHO YOU ARE!!"
You can find more information about the Howard B. books and the We Do Listen Organization on their website at www.wedolisten.org and follow them on Facebook and Twitter.
One of my boy's favorite things to do is color and you can find Coloring Pages on the site as well. You will find printable coloring pages or online coloring pages. Write your own story and make your own coloring book!!