February Freebies Giveaway Hop FREE Sign Ups!!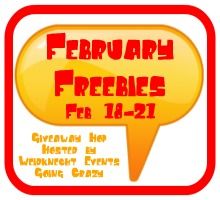 February 18-21
February Freebies Giveaway Hop
To sign up, please enter your blog in the linky below. Each blogger agrees to post a giveaway with a minimum $20 sponsored or self-sponsored prize, from February 18, 2012 at 12:01am to February 21, 2012 at 11:59pm, including the button above, the host and co-host name/link, and the final linky code provided shortly before the giveaway hop begins. A sample post will be provided but each blogger is allowed to word their own post if desired. If you agree to these guidelines, we invite you to sign up. Please feel free to place the button on your sidebar, linked to this sign up page (save copy of button) — the more of us who do this, the better the build-up to the event and the better response when it goes live.
We encourage both new and experienced bloggers to participate in this event! We're here to help you succeed.
MARK YOUR CALENDAR!