Featured Newbie Blogger @mahagge

It is the time of the week when we post our interview with our "featured newbie blogger."
Read further to learn more about the person behind Five Kids and Crazy Me!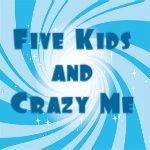 Tell me a little bit about yourself and your family.
I am a stay at home mom with five kids. Ashlynn is 5, Riley is 3, Robert is almost 2, and Abigail and Brittany just turned 1. My husband works long hours so most of my interaction is with my little monsters. We stay very busy in this house!
Do you have more than one blog? If so, tell me about them!
My main blog is Five Kids and Crazy Me. I blog about our everyday lives, product reviews, and I host giveaways. I also have a blog called Reading It All. There I post about book related things. I do book reviews and participate in giveaways.
How long have you been blogging?
I have been blogging for almost one year! My anniversary on Five Kids and Crazy Me is coming up next month.
Why did you start blogging? Is this also why you continue blogging?
I started blogging as a way to kind of keep a journal. I never made the time for it though. Now I am blogging to reach other people. I want to share my thoughts and experiences with others, and I want to tell people about great products that I hope they will check out.
Who does your blog appeal to? Is this who you thought would be your target audience?
I think that my blog probably appeals to other parents and bloggers. I did plan to have parents as my target audience. When I share my posts I like to know what they think. I usually learn something new from the comments!
What direction do you see your blog going in the future?
I hope to start reviewing more products for my readers.
What is the biggest challenge you have faced so far with your blog?
Finding time is so hard!! My children (understandably) monopolize most of my time. I sometimes get so busy with the millions of other things that I don't post.
What do you love about blogging?
I love hearing what people think about things. I also really love sharing my thoughts on stuff. I'm an opinionated person.
What do you NOT love about blogging?
So far, all the formatting is my biggest issue. I'm not good at all this coding and HTML stuff.
What types of product reviews and giveaways do you feature?
I have done some food items. I also plan to feature items for children, the kitchen, and pretty much any household, family, and personal items.
What was your favorite product to review?
I haven't posted my review yet, but I recently received an Ozeri Green Pan that I love! I can't wait to get my review and the giveaway posted!
What advice do you have for those wanting to get into this or up the value of their giveaways?
Pitch everyone! If you like their product, pitch them. The worst they can say is no. That is some helpful advice I got from some friendly Newbie Bloggers.

Some more helpful advice from the Newbie Bloggers, post your giveaways on several giveaway promotion sites! It really helps.
Besides your blog, how else can people find you? Which method is your favorite/least favorite?
You can join my blog pages at Facebook: Five Kids and Crazy Me and Reading It All. You can also follow me on Twitter and Google+. I am probably most active on Facebook and Twitter.
Share your top 3 favorite posts from your blog.
My top three favorite post are Motherly Love / Trusting My Father, Busy Busy Busy, and Pinterest Monday – Wolves (because who doesn't want to look at a pretty wolf?).
Share your top 3 favorite blogs to read and why.
I Am A Reader Not A Writer because they are always holding great book giveaway hops! I love to enter them, and now that I have a book blog I join them, too. And for my other two, I don't know if I can choose just two more! I read way more than two other blogs a day and they are all, too great. I suppose I could go into a long list but really you could just check my Blog Roll!
Do you have any bloggers that you consider to be mentors?
I love all the bloggers in the Newbie Blog Hop group! They have really helped me out as I am getting my blogs going.
Do you have a weekly, daily, or monthly Blog Hop or Meme that people should join in? Tell me about it and share an info link.
I don't have any of my own memes or hops but I do join the Newbie Blog Hop weekly, as well as Pinterest Mondays, and several book hops and memes.
How do you find time to blog?
I blog during meal times, nap times, and bed time. I figure eating and sleeping isn't necessary, right?

What else would you like us to know?
I think I've said a lot!
What is your best advice for a Newbie Blogger?
My best advice would be to find a great group of bloggers, like the Newbie Blog Hop group. I have learned so much from all these great bloggers. Someone always has an answer for my questions and they are a great support system. Also, be sure to blog about what interests you! If you are interested then when you write about it you will draw in the readers better.
---
If you are a newbie or feel like one, come link up with us on the Newbie Blog Hop every Tuesday at 9:00PM CST and you may be featured next! Also, join our Newbie Blog Hop Facebook Group, the "great group of bloggers" Melissa mentioned! *wink*