Rockin' 30th Birthday Bash Giveaway Hop – Sign-ups Open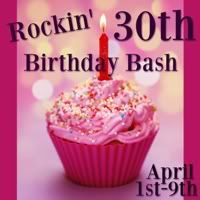 I remember my 30th birthday event like it was yesterday.
I gathered up a few of my closest friends and headed to San Antonio for a Girls Weekend. I reserved a hotel suite and we went to eat at the BEST Mexican restaurant in SA, La Margarita. My dad had always told me that they had the BEST margaritas so I had to try one…he was right!!
I also had told myself that if I didn't have a husband and child by the time I was 30, that I would get artificial insemination and be a single mom…I wanted kids so bad!! That weekend with the girls I decided that I would put that off until I was 35, but guess what?!! By the time I was 31, I had a husband AND a baby!!
So, anytime a blogger has a special event in their life we are always thinking of a way to party it up. What better way to party than to have a giveaway event!!
Erin over at 365 Changes of Me is turning 30!!
There are tons of birthday events going on all the time, but this is so super special and let me tell you why…
Erin was born with heart defects which required more than one open heart surgery when she was very young. She has endured a lot of things during her fight with CHD, and every day for her is a celebration. Many people feared that this day would not come, but it's here and we're gonna celebrate!!
One more thing – Erin is getting married!!
In honor of Erin's 30th Birthday, we are holding a birthday bash for her.
I am co-hosting the Rockin 30th Birthday Bash, along with Two Hearts One Soul, Have Kids…Will Coupon!, Life with Captain Fussybuckets, and Mom with a dot com. We already have 50 bloggers signed up and we would LOVE for you to join us!!
Here's some more details:
This event will start at 12:00 AM EST on April 1st and run thru 11:59 PM EST on April 9th!

The minimum prize amount will be $30.00!

There will be no fee to join this event!

We are looking for bloggers right now to join the event. There will be a prize given away to those involved in the hop, more details about that will follow.

Sign-up's end March 1st.

Rafflecopter is preferred, but not a requirement.
The Rules:
1) Please have a prize of at least $30.00 and you are more than welcome to self sponsor (please disclose that in the giveaway post)

2) Please join our Facebook group after linking up HERE

3) Please look for emails from dcheartgirl (at) yahoo (dot) com with the button information, and post the button no later than Feb. 15th

4) I would like you to do a pre-post about this giveaway no later than March 25th!!

5) I would prefer the Giveaway Hop to be a "Sticky" Post!!

6) Send your email to the winners on April 11th (Erin's Birthday) so that everyone can celebrate with her.
If you would like to help Erin celebrate her 30th Birthday and join an awesome group of people in this hop, please sign up on Erin's post.
Want to know who else has joined so far?!!