Newbie Quickie Giveaway #3 – We're baaaack!!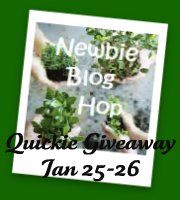 We're back for Round Three!!
For the past two weeks, a group of Newbie Bloggers have joined together to give you all some great prizes. Now, we're back and ready to offer some more prizes!!
When you're a Newbie Blogger, one of the most important things you can do is connect with other great bloggers who want to help and are willing to share their tips and tricks. The Newbie Blog Hop started so that we could connect with other Newbies and learn together!!
The Newbie Blog Hop, hosted by GoingCrazy!!WannaGo??!! and Life's Cheap Thrills, opens every Tuesday at 9pm CST and closes at midnight on Friday. We have a Facebook Group where we share with each other as we learn together.
If you are a Newbie Blogger – or you "feel" new – come join us!!
Giveaway Hosts:
GoingCrazy!!WannaGo??!! – Life's Cheap Thrills – The Kids Are Grown, Now What? – The Jolly Blogger – Been There Done That with Kat – Let's Call it Crispy – Giveaways and Glitter – A Life Full of Laughter – A Jewel in the Making
Prize Pack #1 (US only)
(2) $5 Amazon codes – 20 codes for MyCokeRewards points – Sample of Madhave Coconut Sugar – Set of 3 Magnetic Bookmarks –
Prize Pack #2 (WW)
(2) $5 Paypal – (1) $5 Amazon gift code
Here's what you need to do before heading to the Rafflecopter:
There is only ONE mandatory entry – Tell us if you are eligible for US prize pack or only for the WW prize pack.
For extra entries, visit the blogs in Rafflecopter and answer some questions!!
Good Luck!!
a Rafflecopter giveaway