Newbie Blog Hop – Week 22

Welcome to Week 22 of the NEWBIE BLOG HOP!!
This blog hop is hosted by Going Crazy!! Wanna Go?!! and Life's Cheap Thrills.
If you haven't heard yet, we are having a GIVEAWAY EVENT!! Sign ups for the Newbie Blog Hop Giveaway Event are open. If you are interested in participating, start with filling up the SIGN UP FORM now. The event will run from April 10, 12:01am EST through April 17, 11:59pm EST.
Each week at the Newbie Blog Hop, we feature a blogger who has linked up the previous week.
Featured Newbie:
The Foley Fam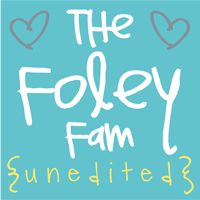 Kristine from The Foley Fam is our Featured Newbie!!
Kristine is a crafty girl, who started her blog with her sister-in-law to share their crafty ideas. She has since taken over the blog and their Shoppe (J&M's Eye Candy Shoppe on Etsy) and is blogging about her family, her love of crafts, and all type of fun things!!
Find Kristine in these places:
Blog / BlogLovin / Facebook / Shoppe / Twitter /
Our full interview with Kristine will be posted on Friday at 12:30pm CST.
If you are new to the Newbie Blog Hop you can read more about it on the Newbie Blog Hop "Rules" page (although, we really don't like rules around here).
Our Facebook Group has gained a lot of new members over the past week and everyone has never been more helpful whenever one member needs help. If you're not a member yet, you are missing something!

SPECIAL ANNOUNCEMENT: Next week we will NOT have a Featured Blogger from the hop (Janet has something special planned ;)) but the following week, we will draw a Featured Blogger from two weeks…so go ahead and link up now!!
Now, let's start hopping! Link up your blogs below and feel free to follow some or all blogs listed.
Now let's do some blog hopping!