Fit Moms 4 Life Review/Sponsor Spotlight @FitMomsForLife #NewMeEvent EXTRA ENTRIES!!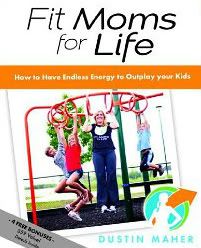 I've talked a lot recently about my husband and me working together to be more active and healthy for our boy. It's very important to us that our son does not grow up to have the weight and health issues that we have had our whole lives. So, of course I was excited to review Fit Moms for Life from Dustin Maher when it was offered!!
I have to tell you this funny story first. You know how I've told you that my son gets really excited about the review items when they come in the mail? He thinks he gets a "prize" every day now!! Well, when this book came he asked me if it was for him and I told him that it's a book to teach Mommy how to play with him better. He thought about it for just a second (quick wit coming..) and said, "Mommy, you wanna come in my room and play and I'll teach you how to play with me?!!"

Now, when I'm busy with something and I tell him I can't come play right now, he says, "I'll teach you, Mommy". Ah..my son..
Anyway, let me tell you about this book!!
Fit Moms for Life: How to Have Endless Energy to Outplay your Kids.

FIT MOMS FOR LIFE chronicles the successes of 31 mothers who used Dustin's fitness and weight loss program with stellar successes. Armed with personal stories with before and after photos, Dustin takes the reader through the five pillars of fitness: Mindset, Nutrition, Strength Training, Burst Training, and Environment. Ultimately leading to the end goal: Staying Fit for Life.
My favorite part about this entire book is the fact that the moms in the book, along with their before/after photos are "real" moms with "real" bodies and "real" families!! I usually shy away from fitness books/videos because the people in them are just not real enough. This book is about MOMS and for MOMS!!
Fit Moms for Life is perfect for Mothers (and women in general) who want a fitness program that works. Dustin Maher says:

Traditional Cardio Doesn't Lose Fat

You Can't Work Out to Compensate for Poor Eating

See Results 9 Times Faster With Burst Training

Learn ONE Exercise That Shrinks a Waistline WITHOUT diet changes

A Healthy Environment Equals A More Fit Family
Dustin talks about assessing your own situation where you currently are and starting from there, not where you think you should be or where your fitness partner might be or want you to be. I have struggled with this when I chose a friend of mine to start walking with. She had been overweight like me, had weight-loss surgery, and after losing all of her weight she wanted to start walking with me to help me and to maintain her weight. I thought since she had been in my shoes she would understand how I felt when I walked for the first few times. She didn't and she would get frustrated that I couldn't walk as far or as fast as she could.
Dustin suggests Reality Checks – Physical, Fitness, Nutritional, Self-care – know where you are, write it down or take a picture. This way you aren't overemphasizing or underestimating your progress. It is difficult when you are over 300 pounds to notice when you lose 10-15, but if you see yourself in photos you will see what others are seeing. You may think you are eating right, but if you journal it daily, you may notice that there are still things you could change…or better yet, you may realize you can eat more!!
My second favorite part about FIT MOMS FOR LIFE – learning about "Food as Fuel". This chapter gets a little technical about food, carbs, fat, calories, but it is not confusing. Dustin has a list of Rules to Eat By (my fave – if you can't pronounce the indgredients, don't eat it!) and then he breaks them down and tells you how they fit into his "Low-crap Diet".
There is so much in this book that I could probably tell you all of it and be just as excited. I think any mom who is busy and overwhelmed, but wants to get in better shape and care for herself a little better, but just can't quite figure out the formula, NEEDS this book.
oh yeah, he's handsome too!!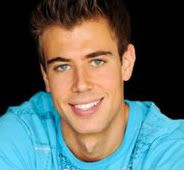 Dustin's inspiration to help moms comes from his nurturing upbringing and continued close relationship with his own mom. Dustin has helped thousands of women get in amazing shape all over the US and the world. He has been on TV close to 100 times and has been in many magazines, newspapers, radio shows, has over 250 YouTube videos, and over 450 articles and videos on his website. To learn more, please check out Dustin's website.
BUY IT!!
WIN IT!!
Dustin Maher wants to give a copy of FIT MOMS FOR LIFE to one of my readers during the New Year, New Me Giveaway Hop going on right now!!
Head on over to the #NewMeEvent and enter!!
SPECIAL SURPRISE FOR YOU!!
Share this review with your friends and followers and earn extra entries. Just use the share buttons at the bottom of this post or to the left and then be sure to record your entries on the Rafflecopter at the giveaway post!!