Stalkinator Review/Sponsor Spotlight!!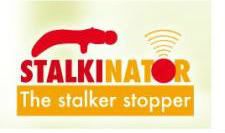 Okay, so I don't have a stalker (I guess I'm not that popular) but I do know that personal safety is very important especially this time of year.
Several times during the week, I am the "late" one at the office, basically I leave at 5:05pm instead of 4:55pm.

Now that it's almost dark by 5:30pm, I have to really pay attention to my surroundings when I am headed outside or in a store parking lot.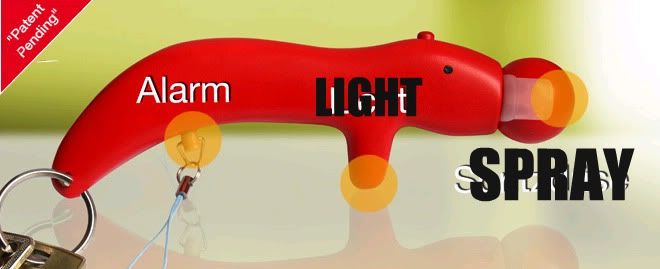 I received this little guy from Stalkinator for review. Cute, huh?!!
The Stalkinator hooks to your keychain, has a light, a spray container, and an alarm. The button on top of his head turns the light on (down by his foot). His nose comes off for the spray bottle (top screws off to refill) and that string you see hanging down pulls out to set off the alarm (like a grenade, I guess).
To be fair, I should mention that one of the Stalkinators that I received fell apart when I opened it, but I think it might have been due to shipping problems. It all snapped back together and worked perfectly!!
The alarm is not overwhelmingly loud, but catches attention and would likely startle someone trying to grab your keys or your purse. My concern with the alarm is that it just dangles and I'm afraid it would get pulled (by a rambunctious 3 year old) more than it should.
It's light-weight and no larger than a cell phone that we are all carrying around anyway. I don't have mine clipped to my keychain (afraid it would be pulled by accident) but I have it tucked in my purse so I can hold it in my hand if I'm in a place where I might need it (leaving work in the evening, walking through a dark parking lot).
If you have been considering carrying pepper spray or some other safety device, this would be a cute addition to your keychain or a handy tool to carry around for your own protection.
Check out the Stalkinator (you'll have to choose your language, it's German made) on the website and connect with them on Facebook and Twitter!!
I'm likely to have more of these to giveaway later, but Stalkinator wants to give one of my readers a safety device during the Twelve Days of Christmas Hop right now!!
Special Surprise for YOU!!
You may have already entered my Eleventh Day of Christmas giveaway, but here's an extra entry!! All you have to do is use the share button below this post and share to Twitter, Facebook, however you choose then head over to my Eleventh Day of Christmas post to record the entry on the Rafflecopter form!!
This giveaway only lasts through December 14th so HURRY!!