I See Me! Personalized Books Review/Sponsor Spotlight #WinterWonderland @ISeeMe_Maia
I remember when I was young and I had a book with my name in it and it was the coolest book EVER. I loved seeing my name in the story and I would read it over and over.
Children love seeing and hearing their names in stories and my son is no exception. I remember the first CD he received with his name in it and we had to listen to it over and over!!
I See Me! Personalized Books for Kids is a great way to honor your child and give them something they will love!!
Put a special message on the inside to give as a gift!!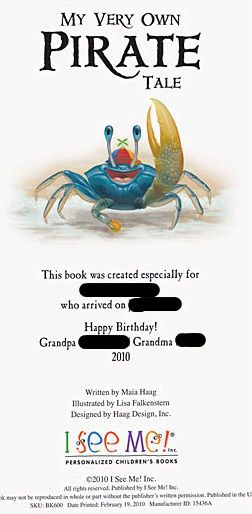 I received a book from I See Me! to review and I chose the Pirate book pictured above for my son. He loves to read about pirates and has recently begun recognizing the letters in his name.
He was excited when we started the story and he saw the page for "B" and then listened intently as we went through each letter in his name…it was a long book (his name is Benjamin).
I was surprised that the book even went through the letters of our last name too!!
The Boy had a great time and the book is great quality. It will be around for a long time and I'm sure we'll read it over and over until he can just read it on his own.
I See Me! has lot of Personalized Books and other gifts for your child!!
Check out the I See Me! website and watch the storybook tours on the I See Me! YouTube channel. Watch the Pirate Tale video!!
You can also follow I See Me! on Facebook and Twitter!!
I See Me! has recently introduced an app for iPad that can be purchased on iTunes for I See Me!
I See Me! wants to give one Personalized Children's Book to one of my readers during the Winter Wonderland Giveaway Event going on now!!
Special Surprise for YOU!!
You may have already entered my Winter Wonderland giveaway, but here's an extra entry!! All you have to do is use the share button below this post and share to Twitter, Facebook, however you choose then head over to my Winter Wonderland post to record the entry on the Rafflecopter form!!
This giveaway only lasts through December 23rd so HURRY!!