A Christmas Story and the Power of Giving @HBWigglebottom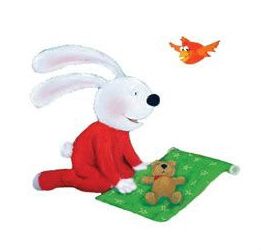 How do you teach your children about the meaning of giving during the Holidays? Hubby and I have struggled with this in the past because we weren't really sure how much The Boy would understand. I guess if we had been doing it all along, he would just assume this was the thing to do.
One of the ways we have found to teach our boy about new things is by reading to him. He really listens because he loves books and after only a couple of times hearing a book, he can tell you the story almost word for word and page by page!!
I was definitely excited when I saw this book about Howard B. Wigglebottom, who just happens to be growing into our favorite character book lately.
Howard B. Wigglebottom and the Power of Giving: A Christmas Story
The story is about Howard, a bunny who always has lots to learn, and his desire to only GET during Christmas and never GIVE. He ends up in a "Home Alone" type situation and is met by lots of other animals who are more in need than him. He takes them home, feeds them, and puts them to bed. He wraps his own toys for them to open on Christmas morning and then gets his own wish when his family comes home!!
Our boy really likes the colorful artwork and the silly things Howard does in this book. He's told us that he can give his toys to other boys and girls and then said that his friends could come sleep at his house…yeah, right!!
It's a really great story and I knew it would be!!
The nine Howard B. Wigglebottom books in the series tackle important life lessons that young children are dealing with today like feeling good about themselves, listening, bullying, anger management, moderation, truth, divorce, peer pressure, belonging, generosity, sportsmanship and attention. The books can be found at We Do Listen, where you can also find Animated Books, Lessons, and Posters for education.
Hardcover copies of the Howard B. Wigglebottom books retail for $15$6 or you can buy all ten books for $150 $50!!
They can be purchased almost everywhere books are sold in the U.S. and Canada. On the Foundation website, for buyers in the U.S., they are half off.
One of my boy's favorite things to do is color and you can find Coloring Pages on the site as well. You will find printable coloring pages or online coloring pages. Write your own story and make your own coloring book!!