Give Love On Christmas Sign-ups Open!!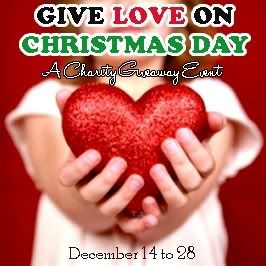 Give Love on Christmas Day is a charity giveaway event happening on December 14 to 28. This event is intended to raise funds for Children's Ministry of Shekinah Christian Church in the Philippines.
The ministry will hold a feeding program for kids residing in a slum area located in the City of Manila.
Bloggers, this is a great opportunity for you to provide a fun CASH giveaway for your followers while giving back to a community in need!! For $10, you can get 4 links (Facebook, Twitter, GFC/G+, and one link of your choice) into the Rafflecopter form. Half of the fee ($5) will go to the Feeding Program fund and the other half will go straight to the event prize. Should you want to add another link, an additional $5 will be required. The additional fee will also be added to the event prize.
The blogger who refers the most additional bloggers to the event will also win $10!!
Head over to Bay Area Mommy or Life's Cheap Thrills to sign up!!