Featured Newbie Blogger – 3 Dogs and a Baby @3dogsandababy

Each week at the Newbie Blog Hop, we choose a Featured Newbie to interview and get to know a little better. From the blogs that linked up in Week 17, the chosen blogger is Melinda from 3 Dogs and a Baby!!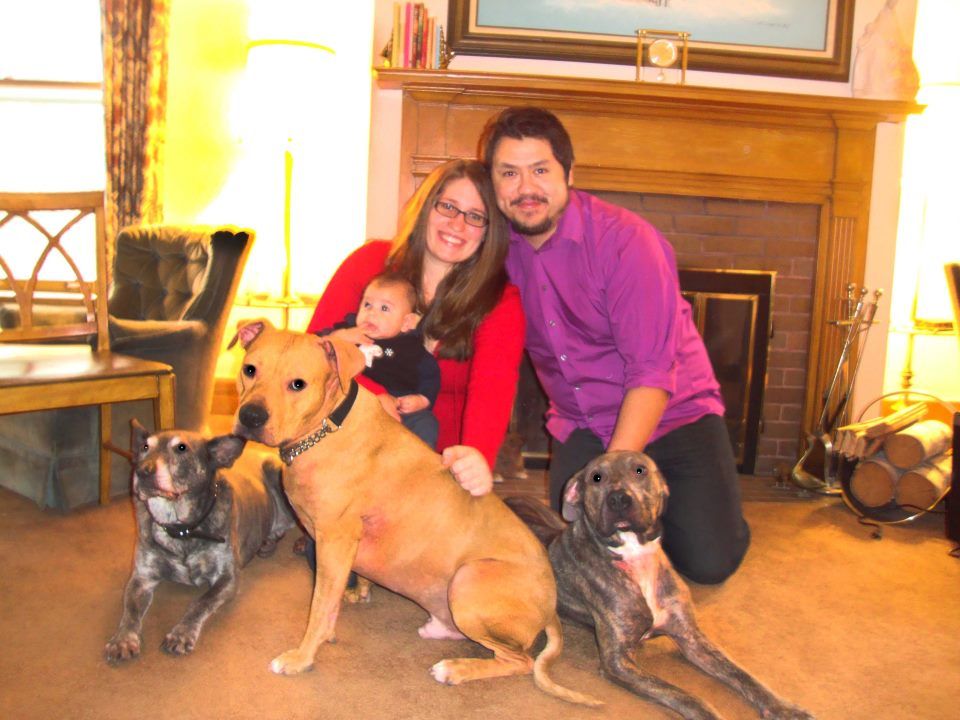 Tell me a little bit about yourself and your family.
I'm a 22 year old cloth diapering, baby wearing, new Mommy to my son, born August 1st. My husband and I also have our furbabies; our three dogs: Doc, Cheeks, and Xavi and our two cats: Sole and Simba. I'm also working on getting my Bachelor's Degree in Chemistry and work part-time. I don't know how I even find time to do everything, it all seems to go by so fast!
Do you have more than one blog? If so, tell me about them!
Nope, I only have the one. Unless you consider the blog I made when I was 13 years old, back when Xanga was cool.
How long have you been blogging?
I've been ranting and raving about things forever. I just recently started my actual blog in September.
Why did you start blogging? Is this also why you continue blogging?
I won't lie, I started blogging in hopes to host reviews and giveaways. However, I've found it harder to actually get a sponsor since I have such few followers. Obviously, it's not why I continue blogging.
Who does your blog appeal to? Is this who you thought would be your target audience?
I think my blog appeals to other moms, especially those who can't stay at home or work at home. Sometimes I feel like the blogging world is filled with bloggers who are just that–and it's a little unfair. A lot of readers don't get that luxury (yes, I feel like it's a luxury, I would love to stay at home but our finances don't allow that.) I'm trying to blog from a different perspective, what it's like to work and go to school and take care of an infant, take care of my pets, and be a good wife all at the same time. I also think my blog could potentially target other pet owners and pet lovers.
What direction do you see your blog going in the future?
Well, I would like to host more giveaways and that's where I'd like it to go in the future. I have to do more research into finding out how to get started. I also have to get more followers. It's nice now since school is out for winter break, I'll have the time to participate in hops!
What is the biggest challenge you have faced so far with your blog?
So far, the biggest challenge has been finding time to blog. I also have a hard time finding a cute, cheap layout. Obviously, I want something cute..just can't afford to actually pay for one.
What do you love about blogging?
I love stating my opinion about things. If I like something, I want other people to know about it. If I don't like something, I'd also like to warn them against it. It's also fun.
What do you NOT love about blogging?
Sometimes I'm a little shy to be posting about certain things. My family doesn't know I have a blog!! And I tend to forget to re-read for spelling/grammar errors. I'm usually pretty good about spelling things correctly but something I'll mistype and enter something in completely wrong! It's embarrassing!
What types of product reviews and giveaways do you feature?
I would like to do product reviews and giveaways on items for pets, the home, and babies/children.
What was your favorite product to review?
I've only reviewed one product, a Baltic Amber Baby Teething Necklace. I do love it though and the Mama who made it is great. Since then, I've ordered quite a few different things from her and love them all.
What advice do you have for those wanting to get into this or up the value of their giveaways?
Unfortunately, I have no advice! I'm the one looking for advice, so if you have any, let me know!
Besides your blog, how else can people find you? Which method is your favorite/least favorite?
I have every method of following there is. I have GFC, Google +. Twitter, LinkedIn, Facebook, etc. My favorite method is probably Google+ or Facebook and my least favorite is definitely twitter. It's so impersonal to me! However, I still have one and you can still follow me there =)
Share your top 3 favorite posts from your blog.
My favorite posts tend to be about both my dogs and baby. My favorite picture ever is posted under A Boy and His Dog. It is one of those "aww" pictures. My next favorite post is "Life with a Pit Bull", I've gotten so much criticism for owning my Pit and having a baby. Everyone seems to think that my dog is a "baby-killer". However, he is the sweetest dog ever and I'd really love for people to open their eyes and see that he is a great dog, just like many other pits out there. My third favorite post would be my review of Dear Baby Donna Creations. She's a great person and deserves to have more traffic to her shop!
Share your top 3 favorite blogs to read and why.
I love the read the Simple Homemaking blog. She gives so many quirky little tips, like how to make your block of cheese stay fresher longer. Her tips of the week are great.
I also love the Eco-Babyz blog. I'm trying to be as green as I possibly can. I use cloth in whatever area of the home I can. Her blog gives interesting and creative tips on how to be greener.
There are also a variety of different money saving blogs I like to look at. I like the fact that they list great deals but often have a hard time keeping up with them! Couponing is definitely not for me.
However, I do love when they post about free photos at Walgreens!
Do you have any bloggers that you consider to be mentors?
No, I am my own mentor. Although, Janet, you may be my new mentor with this Newbie blog hop. It's so nice when other, more established, bloggers help out people who are new!
(again, she was not paid to say that!!

*very honored*)
Do you have a weekly, daily, or monthly Blog Hop or Meme that people should join in? Tell me about it and share an info link.
I don't personally have one. I try to participate in one per week (if time allows).
How do you find time to blog?
Sometimes I do, something I don't. I try to do it on nights I'm not working but that all depends if the hubby is home and if the baby cooperates. Lately, he's been getting upset because I spend a lot of time on the computer versus spending time with him so I've been trying to cut down.
What else would you like us to know?
That's really all. I don't have much to say. If you're interested in doing a review, I don't charge a penny, I'm just more interested in helping people out!
What is your best advice for a Newbie Blogger?
I think I've finally figured out how to gain followers and it is to network, network, network. I've learned that if you reach out to others, tell them you're following, they'll usually follow you back. It's important to join blog hops and visit other blogs instead of just letting them come to you. It does take a little time and effort. If you don't have a lot of followers, don't stress. Take time and relax, it's not the end of the world!
What a great way to end on a positive note!! You guys warm my heart and I'm so happy to "know" each of you.
Have a great weekend!!