Eco-Foil Review/Sponsor Spotlight!!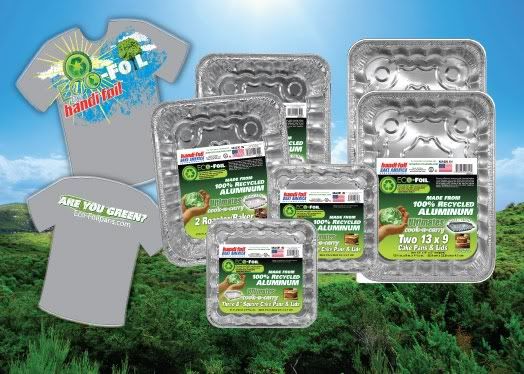 My family has recently decided to start recycling and turning "green" and it's been quite an adventure!! I love when The Boy catches me putting a can or bottle in the trash and tells me "No, Mommy, goes in the cycle!!"
I've mentioned before that Hubby was a chef for 20 years and he's always looking for something new to cook for me to broaden my horizons. I was raised with a "poor man's" taste buds so he likes to introduce me to flavors.
Through our GoingGreen phase, we've come across several new products that we really love and one of those is the Eco-Foil™ pans from Handi-Foil.
Handi-foil™ Corporation is a privately owned manufacturer of recyclable aluminum products committed to quality, convenience and innovation. Handi-foil's most recent innovation was the introduction of Eco-Foil™ brand foilware. Eco-Foil™ is the first and only line of foil containers made exclusively from 100% recycled aluminum.
We were sent a sampling of the Eco-Foil™ pans for a review and Hubby was happy to oblige (on this one

). We spent Thanksgiving with my dad and he doesn't let Hubby bring any food over so Hubby cooked a turkey at home for us, along with some other fix-ins.
He said the pans worked great and he would use them again. In fact, he works at Brookshires and they are everywhere in the store this time of year. Even though we had that large sampling of them, we still picked up a few more…just in case!!
Hubby says they are sturdy and come in great sizes. He used one of the Roaster Pans and Two of the 13 x 9 cake pans…I believe. I'm hoping he decides to make at least one more turkey for Christmas (he is an awesome chef!!)
37% of American households recycle … regularly

In 2006, the nation recycled 82 million tons of household products.

Aluminum is one of the easiest and fastest materials to recycle.

Aluminum is the only material that is endlessly recyclable – without ever breaking down or compromising the quality of the metal.

Aluminum begins to melt at a phenomenally high 1220 degrees Fahrenheit — purifying the metal of any impurities.

Recycling not only transforms waste into valuable resources, but also benefits the environment by helping our air, water, and land stay cleaner.

Every minute of everyday, an average of 105,800 aluminum cans are recycled.

America recycled enough aluminum cans last year to stretch to the moon and back 8 times.

The average American family consumes 182 gallons of soda, 29 gallons of juice, 104 gallons of milk and 26 gallons of bottled water per year … all of which are recyclable.

Americans use 85,000,000 tons of paper a year: about 680 pounds per person.
Check out Eco-Foil™ pans from Handi-Foil and find them on Facebook and Twitter!!
Eco-Foil™ wants to give one of my readers a prize pack to include (2) King Roaster Pans, (4) 13×9 cake pans, (6) small square cake pans and a t-shirt during the Twelve Days of Christmas Hop right now!!
Special Surprise for YOU!!
You may have already entered my Twelfth Day of Christmas giveaway, but here's an extra entry!! All you have to do is use the share button below this post and share to Twitter, Facebook, however you choose then head over to my Twelfth Day of Christmas post to record the entry on the Rafflecopter form!!
This giveaway only lasts through December 14th so HURRY!!