Breathslim Review/Sponsor Spotlight!! @BreathSlim
I have a nasty secret that as a reader you all may not know. Okay, it's not totally nasty, but it's not wonderful either.
Hubby and I are overweight and we smoke.
I hate that we both are so unhealthy, yet we try to teach our son to be healthy and eat right and not smoke and so on…
You may have heard about BreathSlim recently and I want to tell you our experience with it so far.

I received a kit like the one pictured below to try and to tell you all about it.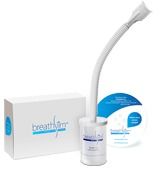 My husband thought I was crazy and decided he wanted no part in it at first.
I couldn't read the instructions because they were in another language, but the DVD was helpful and I have read a few bloggers' information about it so I basically knew what to do with it.
The first time I tried it was a little awkward and as you can guess I was quickly out of breath and sweating a little. It's actually really amazing how much effort it takes to breathe the way you are supposed to breathe.
I felt better after the first try and I continued to use it every day and I feel like my concentration at work has actually improved. Hubby used it a few times, but he's not as impressed as me. He says he doesn't feel any different, but I've noticed him with slightly more energy through the day.
I can't really say whether I've lost weight due to the Breathslim, but I do feel better and I haven't been smoking as much. I don't have as many headaches as usual and that's definitely a relief!!
Breathslim is having a contest beginning January 3 thru February 21 featuring before and after pictures of those who are trying their product.
First place winner will receive Apple® – iPad™ 2 white 32 Gb.
Second place winner will receive NOOK Tablet™.
Third place winner will receive Apple® – iPod nano® 16GB* MP3 Player.
If you are using a Breathslim product, enter the contest here.
You can also follow Breathslim on Facebook and Twitter.
Breathslim is one of the sponsors in the Give Love on Christmas Day Giveaway ending 12/28.
Go enter now for a chance to win!!