12 Days of Christmas – Day Twelve – EcoFoil and Amazon #12DaysofGiveaways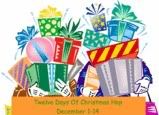 It's the final day of The Twelve Days of Christmas!!
It has been a blast providing a new giveaway for my readers everyday and I hope you all have had as much fun as me!! Today's the last day of a NEW giveaway, but all of the giveaways will remain open through December 14 and I will start announcing winners as soon as possible on December 15!!
I have linked up with a group of bloggers who will ALL be bringing to you a NEW prize every day for
TWELVE days!!
On the twelfth day of 12 Days, my bloggy gave to YOU…
Twelve Foil Pans
(and a couple of bonuses from my friends!!)
and a Gift Card to spend at DaySpring…
~Eco-Foil™ by Handi-foil™!!~
Handi-foil™ Corporation is a privately owned manufacturer of recyclable aluminum products committed to quality, convenience and innovation. Handi-foil's most recent innovation was the introduction of Eco-Foil™ brand foilware. Eco-Foil™ is the first and only line of foil containers made exclusively from 100% recycled aluminum.
Eco-Foil™ wants to give one of my readers a prize pack to include (2) King Roaster Pans, (4) 13×9 cake pans, (6) small square cake pans and a t-shirt!!
Read my Eco-Foil Review!!
Bonus Prizes from my Friends!!
and
are sponsoring a $5 Amazon Gift Card each!!
**UPDATE: If Rafflecopter is not working, please leave a separate comment for each entry method listed here:
(Let's just pray that Rafflecopter start working

)
Just enter on the Rafflecopter form below and come back daily through December 12 to enter a new giveaway every day!!
DON'T FORGET!!
After you enter my giveaway, hop on over to the other blogs and enter a giveaway a day there as well!! Have fun and Good Luck!!
Hurry!! Go enter on these blogs now!!