12 Days of Christmas – Day Three – 3 Children's books!! #12DaysofGiveaways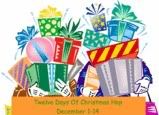 I'm having a blast with The Twelve Days of Christmas Giveaway Hop, are you?!!
I am linked up with a group of bloggers who are ALL bringing to you a NEW prize every day for TWELVE days!!
On the third day of 12 Days, my bloggy gave to YOU…
Three Children's books!!
Two weeks of FOOD
and a Gift Card to spend at DaySpring…
First, you can choose one of Lisa Weidknecht's books
E is for Emotions – or – Raindrop Dream
If you need help deciding, read my
Review of E is for Emotions and my Review of Raindrop Dream!!
Second, you can win
Blooming Buddies in the Garden: A Blooming Book of Verse
Read my Review of Blooming Buddies!!
Finally, you can win
Howard B. Wigglebottom Learns to Listen
Read my Review of Howard B. Wigglebottom!!
Just enter on the Rafflecopter form below and come back daily through December 12 to enter a new giveaway every day!!
DON'T FORGET!!
After you enter my giveaway, hop on over to the other blogs and enter a giveaway a day there as well!! Have fun and Good Luck!!
HURRY!! Go enter on these blogs as well!!