12 Days of Christmas – Day Ten – $10 Gift Certificate @LearningJourney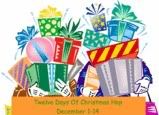 Welcom to Day Ten of The Twelve Days of Christmas Giveaway Hop!!
Phew!! We are almost there!! This has been quite an adventure, posting a new giveaway every day and making up that little song… I will apologize in advance for today's..it's a stretch. Haha!!

I have linked up with a group of bloggers who will ALL be bringing to you a NEW prize every day for
TWELVE days!!
On the tenth day of 12 Days, my bloggy gave to YOU…
A Ten Dollar Gift Card (to Learning Journey Intl.)
(See…I told you)
and a Gift Card to spend at DaySpring…
I'm self sponsoring a $10 gift certificate to Learning Journey International today because they have this cute stuff!!
Just enter on the Rafflecopter form below and come back daily through December 12 to enter a new giveaway every day!!
DON'T FORGET!!
After you enter my giveaway, hop on over to the other blogs and enter a giveaway a day there as well!! Have fun and Good Luck!!
HURRY!! Go enter on these blogs as well!!