12 Days of Christmas – Day Six – Fill Your #Kindle at the #99CentBookEvent #12DaysofGiveaways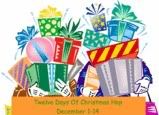 Oh no!! We're halfway through The Twelve Days of Christmas Giveaway Hop!!
I am linked up with a group of bloggers who are ALL bringing to you a NEW prize every day for TWELVE days!!
On the sixth day of 12 Days, my bloggy gave to YOU…
Six brand new ebooks!!
Five Stressless Days
Four Coke Rewards
Three Children's books
Two weeks of FOOD
and a Gift Card to spend at DaySpring…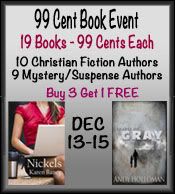 I recently became aware of the WoMen's Literary Cafe and I have been AMAZED at the support that is given by this community of authors and bloggers!! I jumped at the chance to become one of their reviewers and I have my hands eyes in a few different books right now…when The Boy and Hubby allow it.

For today's giveaway, I am going to buy for you (that means I'm self-sponsoring this one) SIX ebooks during the #99CentBookEvent!!
Read more about the #99CentBookEvent and start thinking about what books you will pick!! We'll have to hurry because this giveaway ends on December 14…and the #99CentBookEvent ends on December 15!!
Just enter on the Rafflecopter form below and come back daily through December 12 to enter a new giveaway every day!!
DON'T FORGET!!
After you enter my giveaway, hop on over to the other blogs and enter a giveaway a day there as well!! Have fun and Good Luck!!
HURRY!! Go enter on these blogs as well!!