12 Days of Christmas – Day Nine – Advertise with Me!!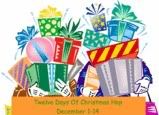 It's Day Nine of The Twelve Days of Christmas Giveaway Hop!!
I have linked up with a group of bloggers who will ALL be bringing to you a NEW prize every day for
TWELVE days!!
On the ninth day of 12 Days, my bloggy gave to YOU…
Nine months of Ads!!
and a Gift Card to spend at DaySpring…

Advertise on GoingCrazy!!WannaGo??!!
You can place a 125×125 button on my sidebar for NINE MONTHS!!
You can add TWO FOLLOW METHODS to at least 9 Rafflecopter entry forms in my Giveaways!!
Curious about what Events I have coming up? Check out my Upcoming Events Page!!
Just enter on the Rafflecopter form below and come back daily through December 12 to enter a new giveaway every day!!
DON'T FORGET!!
After you enter my giveaway, hop on over to the other blogs and enter a giveaway a day there as well!! Have fun and Good Luck!!
HURRY!! Go enter on these blogs as well!!
Don't miss any Crazy posts!! Sign up for Email Updates now!!