12 Days of Christmas – Day Four – Coke Rewards Points @CocaCola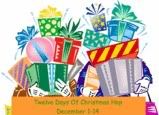 Happy Sunday!!
Are you entering all the giveaways in The Twelve Days of Christmas Giveaway Hop?!!
I am linked up with a group of bloggers who are ALL bringing to you a NEW prize every day for TWELVE days!!
On the fourth day of 12 Days, my bloggy gave to YOU…
Four Coke Rewards!!
Three Children's books
Two weeks of FOOD
and a Gift Card to spend at DaySpring…
Actually, I'm giving away FOUR sets of FOUR Coke Rewards Caps
That's SIXTEEN codes
That's FORTY EIGHT points
You could order a coupon for a FREE 20oz DRINK!!
Just enter on the Rafflecopter form below and come back daily through December 12 to enter a new giveaway every day!!
DON'T FORGET!!
After you enter my giveaway, hop on over to the other blogs and enter a giveaway a day there as well!! Have fun and Good Luck!!
HURRY!! Go enter on these blogs as well!!