12 Days of Christmas – Day Five – Perfect Calm Vitamins #12DaysofGiveaways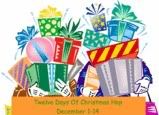 Just another Manic Monday?!!
Today's giveaway in The Twelve Days of Christmas Giveaway Hop is just for you!!
I am linked up with a group of bloggers who are ALL bringing to you a NEW prize every day for TWELVE days!!
On the fifth day of 12 Days, my bloggy gave to YOU…
Five Stressless Days!!
Four Coke Rewards
Three Children's books
Two weeks of FOOD
and a Gift Card to spend at DaySpring…
Perfect Calm Whole-Food Multivitamins can be found on BestPriceNutrition.com
I'm giving away a 5 day supply!!
Just enter on the Rafflecopter form below and come back daily through December 12 to enter a new giveaway every day!!
DON'T FORGET!!
After you enter my giveaway, hop on over to the other blogs and enter a giveaway a day there as well!! Have fun and Good Luck!!
HURRY!! Go enter on these blogs as well!!