World Prematurity Day – November 17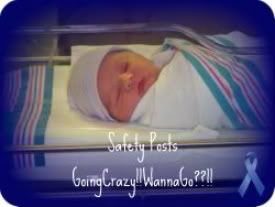 Today is World Prematurity Day
My husband and I were very blessed with a healthy baby with The Boy and we praise God every day for this!! Today is about honoring the families whose babies were born premature and raising awareness!!
November 17 is World Prematurity Day.
Wear PURPLE and honor the babies and families who need our support!!
Visit The March of Dimes to learn more about:
The Prematurity Campaign
In 2003, the March of Dimes launched the Prematurity Campaign to address the crisis and help families have full-term, healthy babies.
Healthy Babies are Worth the Wait
This program focuses on preventing preterm birth when it is preventable.
Prematurity Awareness Month
November is Prematurity Awareness Month®
Read more about the 2011 Premature Birth Report Card.
"Like" World Prematurity Day on Facebook.
Help spread the word and raise awareness!!
543,000 babies are born too soon each year
The United States earned a grade of "C" with 
1 in 8 babies born too soon. 
Texas earned  a "D"!!
(Source: National Center for Health Statistics, 2009 preliminary data)
Find out how your state compares.
Visit March of Dimes to learn more or to donate to support these families!!