@WoMensLitCafe Authors Give Back Blog Hop Coming Nov 16 #Gratitude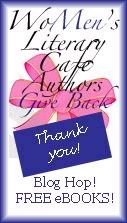 I am so excited to be a part of this event coming on Wednesday!!
On November 16, 2011, twenty bloggers will host twenty very special authors,
all giving out FREE ebooks to very special readers.
You don't want to miss this give-back event!
Show some love for our bloggers, stop by and check out their blogs!
Stay tuned and tell all of your friends! It's time for a little GRATITUDE,
and the WLC Authors have oodles of it to give out!
Don't miss any Crazy posts!! Sign up for Email Updates now!!