My Caring Cross – Review
Look at these beautiful crosses!!
They are real Olive wood and are hand carved by Christian craftsmen in Bethlehem.

The Caring Cross is made from genuine olive wood in Bethlehem, the Holy Land. Designed specifically to fit within the contours of your hand they are perfect to hold during prayer or meditation.
 Caring Crosses make a wonderful gift to say "thanks" or "I care" to your pastors, priests, bible study groups, prayer groups or any family member or friend in need of a little boost in faith.
My Caring Cross contacted me about spreading the word of their crosses and I was so honored!! They sent me an Olive Wood Caring Cross in a Burgundy bag with an Authenticity Card, as well as a cream bag and card displaying how Caring Crosses could be used as a Wedding Favor.
I can't even describe for you how beautiful the cross is in person. You just hold it in the palm of your hand and it just fits. The wood is smooth and silky, it's just so hard to imagine that a person's hands carved that from an olive branch!!
I've kept mine on my desk at home just looking at it wondering how I was going to write this out for you to read and I just can't think of the words. I could use it to meditate or hold while I'm reading the Bible. I'll probably take it to work with me now and have it on my desk to remind me that the Lord is watching over me at all times and that He loves me so much that He gave His Son to die on the cross while I was yet a sinner.
This cross is calming and comforting…
It's lightweight and just about the size of your palm. Each cross is unique and shows the wood grain from it's branch. The carrying pouches are about the size of an index card and have a drawstring closure. The authenticity card and/or wedding favor card are the size of a business card and fit inside the pouch with the cross.
Authenticity Card message:
Caring CrossesTM are individually carved from a single unique piece of beautifully grained olive wood pruned from the olive trees around Bethlehem the birthplace of Jesus. Christians have been carving crosses like this for hundreds of years, originally for pilgrims and more recently tourists visiting the Holy Land. Each craftsman receives a fair price to support their family and Christian community. My Caring Crosses are designed to fit comfortably into the palm of your hand as an aid to prayer or meditation. Ideal as your spiritual companion for easing children's fears, comforting worries and stresses of adults and focusing the prayer of the sick and elderly.
BUY IT!!
Order online at MyCaringCross.com
My Caring Cross is having a HUGE CHRISTMAS SPECIAL!!
Order a Caring Cross Today – $5, plus $3 shipping
Get a second for $2
Who else would benefit from a Caring Cross?
Twin Pack – Price $10 including Shipping
2 Caring Crosses
2 Gift and informational cards
2 Velveteen Gift Bags
Consider the Mission Pack of 8 – $4 each delivered
Once you start meeting people you will be giving them away!!
Mission Pack – Price $32 including priority shipping
8 Caring Crosses
8 Gift and informational cards
8 Velveteen Gift Bags
Church Packet 50 Crosses – $150 plus $15 Priority Postage within the US
Fundraising Packet 100 Crosses – $300 plus $20 Priority Postage within the US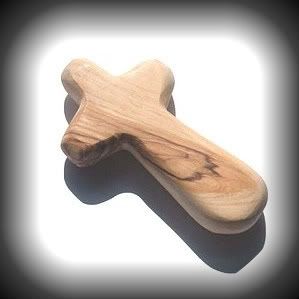 God Bless You!!
Please feel free to leave Praises or Prayer Requests on this post!!
How can I pray for you?!!