IronKids gummy vitamins Review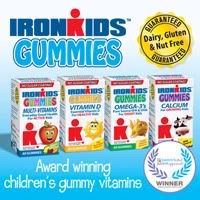 I have been telling my son lately that he is going to turn into either a chicken nugget or a hot dog…you know, you are what you eat… He's not really a picky eater because he will try lots of new foods (his daddy is a chef!!) but he just likes what he likes!!
Just a little TMI (you're all moms so it's okay) but my boy has issues with constipation – and we're still potty training – so he tends to drink more apple juice and less milk than I would prefer.
There is no way he is getting all of his vitamins!! A while back we start buying gummy vitamins and we've tried several. Sometimes he likes them, sometimes not so much…
Deborah from IronKids offered to send me a few of their gummies for review so I could tell you all about them. We chose to try out the IronKids Multivitamins and the Calcium vitamins and my boy LOVES them!! I'm not just saying that…I mean, he LOVES them!! (even more than his character ones!!) It's so nice to not have to fight him to take the good stuff and not worry about him being healthy and active!!
The Multivitamins are about half the size of a quarter and very soft. They are red and orange (and apparently pretty darn yummy!!). He takes one per day, but always asks for more!!
The Calcium vitamins are closer to half the size of a nickel and they are shaped like red k on the IronKids' logo.

They are pink and yellow and a little more chewy, but still very soft. He takes two of these per day and we always have to decide if it's one of each color or two of the same.

IronKids was started by a Husband and Wife team, Deborah and Stuart Lowther. Stuart started Life Science Nutritionals in 2005, striving to give families a healthy alternative and focusing primarily on children's health. IronKids Gummy Vitamins began selling in the stores in 2007, but really took off when Deborah and the children joined in during 2010 (the woman behind the man…I love it!!).
Deborah started tweeting as @KidsGummyMum and IronKids took off!! She began working on the IronKids website, Facebook page, and blogging about Raising Healthy Kids!!
Generosity
IronKids has sent 10 cases of Multivitamins to children to Peru and Haiti through Short Term International Medical Missions Abroad.

They donate financially to

PacePerformance

 to purchase bikes for kids through The Childrens' Aid Society at Christmas time

They donate huge prize packs of vitamins and family passes to local attractions to be used as Silent Auction items to raise funds for Halton Women's Shelter through RocktheWave, for York Central Hospital Foundation & Zack's Dream room thru events hosted by Zack's friends.

IronKids contributes to events supporting Moms, educating Moms, raising money for Cancer research and encouraging family activities and many local kids hockey teams and sporting events.

This summer IronKids Gummy Vitamins will be in the race kits for over 2,500 children across Canada participating in organized 1km or 5km fun runs and

TRiKiDS triathlons

!
Here are some more details about IronKids!!
IronKids use only Natural flavours and colours. Nothing artificial, no sugar coating.
IronKids Gummies are Gluten Free, Nut Free
IronKids Omega is the first gummy to use 100% fish oil with no fishy after taste
IronKids Omega Gummy won Canadian Living Best New Product in 2010
IronKids was the first on the market with a Vitamin D gummy for kids
IronKids is the only entire brand line approved by Health Canada
IronKids Multi, Omega, Calcium and Vitamin D all won Parent Tested Parent Approved (PTPA) awards in 2011- voted on by Parents in Canada and US
Visit IronKids for more information, find out how to buy online, or look for a retailer near you!!
IronKids Facebook Twitter YouTube
Sign up for IronKids eNewsletter and receive a $2.00 off coupon towards next purchase!!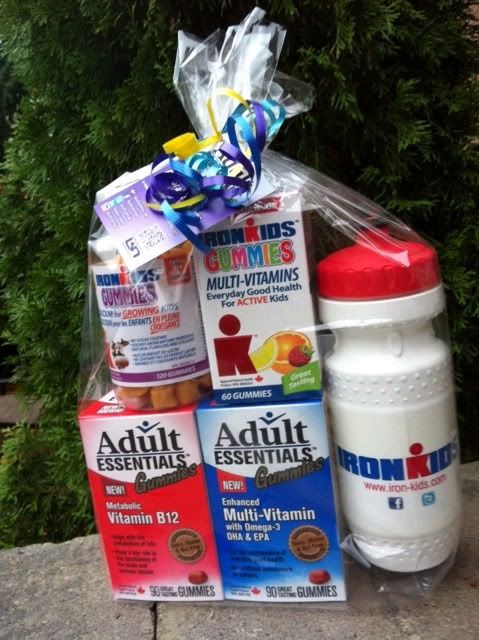 Why IronKids?!!
Our mission at IronKids is to help your kids stay healthy and active. From Multi-vitamins to Omega 3's, our great tasting gummies are specially formulated to support the health, growth and development of your children. Start your kids on the path to lifelong health with IronKids Gummies.