GlassesUSA – Great Deals!!
My husband needs glasses. We've known that for a while now, but I think we keep trying to forget because we don't have the money for the appointment or the glasses.
Today, we were at the doctor's office and he was squinting at a sign and I felt terrible. He has stopped mentioning his need because he doesn't want to spend the money. We have pretty good insurance for the doctor visit so I started looking for glasses online for some coupons or deals.
I found GlassesUSA.com!!
GlassesUSA has a great selection of high quality frames and lenses, and they offer a 110% lowest price guarantee as well as a 100% satisfaction guarantee.
I can't wait to get my husband some cheap eyeglasses!!
There is a fantastic Refer-A-Friend program that I'm definitely going to be using because my younger sister is always losing her eyeglasses…or just wanting new ones!!
Check out their current Cyber Monday Explosion ALL WEEK LONG!!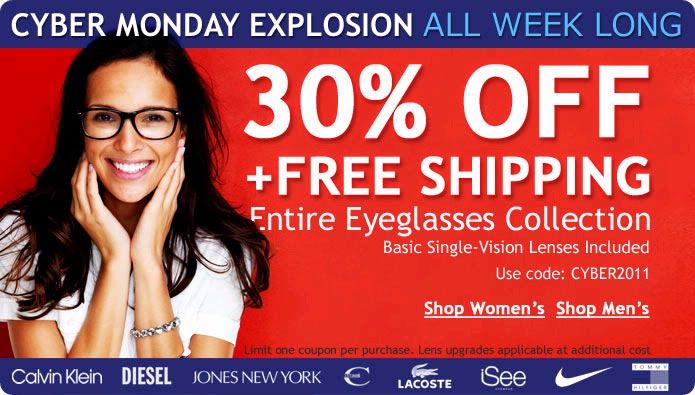 You can also stay up-to-date on all GlassesUSA happenings through the GlassesUSA Facebook page and the Glasses USA Twitter feed.
One more great deal!!
Check out the Early Holiday Sale:
Take 20% off any frame in the iSee Eyewear collection and get free shipping within the US using Code: iSee20FS – AND – Take 10% off any order of prescription glasses using Code: Blog10!!