Fun With GF/LG Food! ebook cookbook Review
Is there someone in your family with food allergies or Celiac's disease? Are you looking to cook for your family with organic foods or sugar free? Are you just looking for something new, healthy, and fun to cook for your family?!!
I admit, my family is not a healthy-eating type of family. We are meat and potatoes, fast food and pizza, ice cream and junk food-type of people!! My extended family has a long history of diabetes and obesity so learning to eat healthy has always been a struggle for me. My husband was a chef for 20 years and he loves to cook and share his food with me, but we're a busy, tired family and he doesn't always feel like putting the effort into cooking a healthy well-rounded meal (and I just don't cook…).
When Debbie Johnson contacted me about reviewing and sharing her new cookbook, Fun With GF/LG Food! I was curious and wanted to give it a shot!! We are trying to eat healthier and hope to raise our son with a healthier perspective of food. Hubby was willing to look at the cookbook with me from a chef's perspective and give me some feedback too!!
Fun With GF/LG Food! is an ebook cookbook in which every recipe is completely Gluten-Free, Sugar-Free (except fruit), Digestion-Friendly, Allergy-Friendly and Low Glycemic with Meat, Poultry, Fish meals and Tree-Nut-Free, Dairy-Free, Vegan and Vegetarian Options (for most recipes).
Debbie points out that doctors are finding 60% of the population has some type of Celiac disease or gluten-intolerance and that diabetes is becoming much more prevalent. She feels that eating gluten-free and low glycemic foods will help people become healthier and have more energy.
Debbie is the former owner and executive chef of The Golden Chalice Restaurant & Gallery, a 100% gluten-free, sugar-free, low-glycemic, organic, allergy-friendly establishment. She shares in the cookbook that she has always loved to cook for special diets!!
Fun With GF/LG Food! features the following chapters:
Simple Preps and Starters Super Soups Side Dishes, Salad Dressings and Sauces Main Dishes Delectable Desserts Breads, Snacks and Light Meals for the Road Vegetables and Ingredients I Don't Use and Why Specific Ingredients I Suggest in Recipes and Why
As a "lay person" in the cooking world, I found the cookbook to be simple and informative. As a former chef of 20 years, my husband found it to be easy to follow and thorough in the information regarding Gluten-Free, Low-Glycemic (GF/LG) cooking.
Debbie has provided "Success Secrets" sprinkled throughout the book to help guide someone who may be new to the GF/LG lifestyle, such as "Pepper is best for digestive systme when not cooked otherwise it can be an irritant" (Quick Gravy).
There are tips on how to change your current favorite foods into GF/LG friendly recipes, such as "For sweetener that tastes like sugar and is unrefined, use Raisin Sauce (the recipe is in the book ;)) plus sweet leaf Stevia"!!
"Most Important of All: Have Fun and Cook with Love, the Best Ingredient of All!!"
Most of the recipes have a special section in the margin for Variations, such as "Instead of Oregano, use organic Tarragon" (Golden Chalice Crudites) and "Add fresh organic Ginger for an Asian taste" (Root Vegetable Stew).
There are also tips for Vegans and dairy-sensitive  and nut-sensitive people!!
The Bonus Section includes 7 Tips and some Tricks for eating in restaurants.
Fun With GF/LG Food! is an ebook cookbook!!
Why an ebook cookbook?!
You can reprint any recipes you spill on or mess up! You can edit to your liking after you make it into a word file, adding your own ingredients, changing amounts to suit you, etc. You can print just what you want to cook at that time, having just one piece of paper in the counter instead of struggling to keep a book open. But if you want to have a book, just print it on hole-punch paper and put into a binder. You can do a search for any recipe you want with any key words, just like anything else on your computer with "find" button. **taken directly from Gluten Free Fun**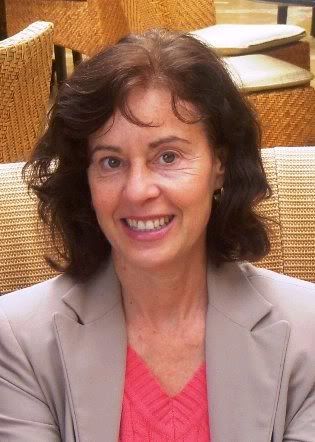 Debbie Johnson is the former owner and executive chef of The Golden Chalice Restaurant and Gallery and a best-selling author of Think Yourself Thin
Visit Debbie Johnson for a full list of her books!!
 Check out this video of Debbie talking about GF/LG food and her recipe for Coconut Truffle – YUM!!
Gluten-Free, Low Glycemic Coconut Truffle by Debbie Johnson
BUY IT!!
Purchase Fun With GF/LG Food! for $27.00 by clicking on the link!! The printed version is available for $37.00, plus $4.00 (US)/ $7.00 (international) shipping and handling.
**This post contains affiliate links. I also received an ebook for review. Neither of these facts has influenced my opinions or review of this cookbook. That's what I used Hubby for… :)**.