Beatifical on Etsy Review/Sponsor Spotlight #HHEvent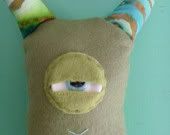 My boy just absolutely loves stuffed animals…he comes by it honest because his Daddy and I have TONS of animals that we have saved from our childhood!!

Hubby is one of the best at those crane games and wins about 90% of the time…I'm serious!! We have tons of those silly animals that look (kinda) like the real thing, but there's always something a little strange.


Look at these ADORABLE creatures that I found on Etsy!!
Courtney from BEATIFICAL makes all these creatures by hand and they are just irresistable!!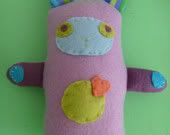 Courtney sent us a BOT to review (I'm so sorry my camera isn't working so I couldn't put up a pic of the BOT) and my boy just loves it!!
The BOT is green and a rectangle with a brown square face and button eyes and a two button round belly. He has these two wrench shaped hands sticking out his sides and he's so soft!!
The creatures are made out of a felt like material and the hand stitching with mismatched buttons and shapes make each one unique!!
Hubby especially likes BEATIFICAL because they are all made in Detroit, MI (his hometown)!!
Check out Courtney's BEATIFICAL shop on Etsy!!
BEATIFICAL also just joined Facebook so head over and "like" them there!!
BUY IT!!
You can buy a BEATIFICAL creature on Etsy!!
WIN IT!!
Courtney wants to give a $20 gift certificate to one of my readers during the Home for the Holidays Giveaway Hop now LIVE!!
The Home for the Holidays Giveaway Hop goes live at 12:01am on November 14 and ends 11:59pm on November 20!!
Come back and enter for your chance to win your own unique creature from BEATIFICAL!!

ENTER HOME FOR THE HOLIDAYS GIVEAWAY HOP NOW!!