Advantage Bridal – Sponsor Spotlight!! #12DaysGalore
Advantage Bridal offers over 21,000 unique items and has been producing their own line of custom apparel including t-shirts, tank tops and hoodies, with a vast array of designs for every imaginable occasion or interest. Each custom item is made to order and is available with rhinestone embellishments, color printing, or with custom embroidery.
Advantage Bridal has a fun array of Holiday Gifts too!!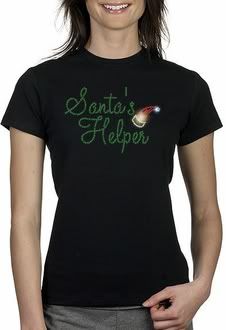 BUY IT!!
You can find all of the personalized gifts, wedding accessories, fun t-shirts, and wedding gifts, shoes, jewelry, and so much more by visiting Advantage Bridal online!!
WIN IT!!
Advantage Bridal wants to give one of my readers this BLACK "Santa's Helper" t-shirt in honor of Black Friday during the 12 Days of Gifts Galore Giveaway Hop now LIVE!!
Check out Advantage Bridal today:
Website: Advantage Bridal
Twitter: @AdvantageBridal
Facebook: AdvantageBridal
LinkedIn: Advantage Bridal
YouTube: Advantage Bridal
**I did not receive products from Advantage Bridal for this giveaway. They are sponsoring this event and providing a free product to the winner of this giveaway. My opinions are based solely on viewing their website and product prices (which just so happen to rock)!!