Winner, Winner, Winner!! Post #200!! and a Flash Giveaway!!
I'm so happy to announce the winner of In Honor of the Tatas:
Rachel!!
Congratulations – I hope you enjoy your prizes!!
Now, for Post #200!!
Can you believe I've created 200 posts so far?!!
I can't, although at times it seems like so many more…
I just want to take this time to give some major shout-outs
to some of my favorite bloggers out there!!
Check out the ones who sound great to you, then come back and let me know who you visited, who you are now following, or just say something encouraging to me
(I love comments!!)
On Thursday morning, I will pick a random comment and that person will receive a
$50 Bright Star Kids gift certificate!!
Now, check out my FAVE bloggers!!
Denise at Shopper Strategy has some of the best shopping trips postings and I love to see what she buys for her BBGG Quads plus One!! She is also a great friend and has helped me in some frustrating bloggy times. Hugs, Lady!!
Barb at Blogfully is the sweetest friend and I love to read her
awesome reviews and enter her giveaways!!
I'm pretty lucky on her site too. I've won a couple of her giveaways already!!
She also allowed me to guest post for her last week on Halloween Safety Tips!!
Barb is a great friend, too!! She, Denise, and I have vented together through email a little and these two ladies really know how to cheer me up!!
Double hugs, Ladies!!
Kristin at The Clever Neighbor has been my bloggy buddy since I decided to start blogging. I love, Love, LOVE her!!
If you're going to enter a Giveaway Hop, you want it to be hosted by Darcy at Tales of the Nursery, Krista at Heavenly Savings, or Giveaway Blogdom!!
They are so amazing and stay on top of all the questions.
They make your experience fun, easy, and stress free!!
Cami at First Day of My Life is a sweetheart too and her site is so upbeat!!
 Kristine at Cora's Story is so sweet and a strong woman. She interviewed with me a while back to help spread the word about Pulse Ox Advocacy.
Lisa at Bookalicious Travel Addict (my family across the pond) talks about her travels and gives great book reviews!! She's not blood family, but it seems like it!! She's coming to America during Thanksgiving and we're gonna blog talk everyone silly!!

Sarah's at Sarah's Blog of Fun is so much fun that she had to put it in her blog name!!
I love visiting her site for all the fun-ness…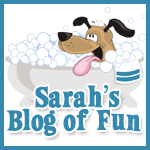 Because we all think it at some time in our life,
I love reading 1000 Reasons I'm a Bad Mom
because every reason she gives…I've done it!!
Visit my Blogroll page for some more fun bloggers and
Check out the Newbie Blog Hop for the fun bloggers we are just now meeting!!
Good Luck on the Giveaway!!
*This giveaway is not sponsored by Bright Star Kids, is not associated with Facebook or Twitter, and is just a gift from me to you!! Enjoy!! 😀