My Crazy!! Happy List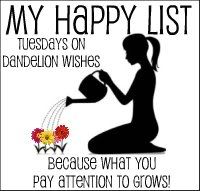 So, I tweeted a little while ago that I needed to hear some good news.
I got no response, by the way, but I did find this linky!!
So many things make me happy, but I let my grumpy moods get me down way too often!!
I wasn't really prepared to link up, but since this linky just made my day, I'll share this very happy moment with you all!!
Hubby and I have been trying to take The Boy to the city library (aka The Big Liberry) since last week, but something kept getting in the way. We would get there too late or I didn't have my ID so I couldn't get him a book…blah, blah, blah…
We promised him yesterday that we would make it there in time to get a card, stay a while, and borrow a book. When we pulled up to daycare, he was outside playing and he came running across the yard to the gate and was jumping to see us. When we got in the car, he could not contain himself and was flailing his arms around so excited that he was finally going to the library for a card and a book!!
He finally got a library card and it's colorful and he thinks it's like a credit card!! I let him hold onto it because they gave me a keychain card as well. He ran from shelf to shelf looking at all the books and was so excited to check out his own book to take home!!
I love that he loves books!!
What's making you happy at this very moment?!! What are the things in your life that (no matter how you feel) will always make you smile?!!