Juppy Walker Review/Sponsor Spotlight!! #CouponCabinHop
CouponCabin's 25 Dayz of Giveawayz will take place from November 1-25. Don't forget to come back and enter then!! There will be over 400 blogs participating
Humor me here for just a minute: Imagine you are no longer able to walk, but you are learning… You have this strong desire to be on your feet and there are people all around who are cheering you on!! You can pull yourself up to your kitchen counter or the couch and you can slowly make your way around your house, holding onto things along the way. Now, imagine that someone tells you they have a way to help you learn to get away from holding onto things and you can get anywhere you want, but it's 3 feet about your head and you have to keep one or both of your arms stretched high above you in order to get around… Would that sound appealing to you?!! Don't you think your arms would hurt and your shoulders would burn? Do you think you would like it?!!
Well, that is how your baby may be feeling as you hold onto his hands and try to walk him around the house!! He's trying to learn a new "trick" and he really wants to get to whatever he can, without crawling, scooting, or rolling his way to it!! But…in order for him to learn he has to hold his arms straight up over his head…?!! Yikes!!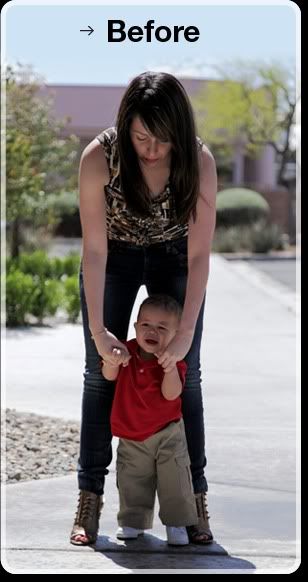 Here's the ANSWER!! The JUPPY walker!!
I am so excited to tell you about my experience with the Juppy walker!!
I've mentioned before that I am teaching AWANA at my church for the children ages 4 years old and younger. There is a Little One in the class who is 10 months old and prime for walking age!! He is actually a little behind due to a head injury he sustained when he was just a couple months old. He is making great strides and has started pulling up on the toys and furniture around the play room!!
Last Sunday, I took the Juppy walker to church with me and, with his mommy's permission, tried it out with him. Let me first say that I was a little intimidated to put it on him and then hold the straps. I thought he might just topple over head first (and I sooo did not want to injure his head again!!) but as soon as I started to put it on him, I knew there was nothing to be concerned about. The harness of the Juppy fit perfectly around his cute little tummy and zips up in the back. It slips on like overalls and fit all the way up to his armpits. The padding and material was so soft that it seemed very comfortable over his clothes, but I think it would also be soft enough to put on your baby if he was only wearing a diaper!!
I held onto the strap and stood straight up (no stooping over to grab his hands!!) and held onto the loops. At first, Little One's legs buckled a little under him (him mommy said that is part of his developmental issues as well) but he was able to stand up and try to step, just like he does in his exersaucer toy!!
Little One tolerated the Juppy for quite a while, but he got frustrated with me not getting him to the toys he wanted quick enough (and the other children needed my attention too) so we only used it for a short time. I packed it up in the silky bag that came with it and tucked it away for his mommy to take home and use more. She said Little One's physical therapist was coming later in the week and she would show it off (I'll have to get the scoop on how that went and share with you later!!)
Little One's mommy was so impressed with the quality of the material of the Juppy and loved the little bag that comes with it for tucking it away in the diaper bag or your purse.
Details from the Juppy website:
No More Back Pain When you teach your baby to walk with the Juppy you stand upright! Available for Boys and Girls The Juppy is now available in colors pink, blue and black for your baby boy or girl! One Size Fits All The Juppy is suited for babies of all sizes. Quality and Durability The Juppy is made from 100% cotton and is easy to clean. Adjustable Straps The Juppy adjusts for the best fit for all parents, short or tall. Portability The Juppy is easy to transport, fits in diaper bag or purse and every purchase includes an attractive drawstring carrying bag!
Safety and Juppy Baby Walker Unlike traditional baby walkers, the Juppy Baby walker is a 100% parent assisted baby walker that eliminates all of the dangers of walkers with wheels. The American Academy of Pediatrics has called for a ban of baby walkers with wheels and it is illegal to sell wheeled baby walkers in Canada. Health & Safety Warning: Do not swing your child in the Juppy.
BUY IT!!
The Juppy walker is available online at www.thejuppy.com for $29.95!!
Available in Blue, Pink, and Black Personalize it with your child's name for only $6.95!!
WIN IT!!
Juppy wants to give one of my readers a Juppy walker in the color of your choice!! Come back by tomorrow for the CouponCabin's 25 Crazy Dayz of Giveawayz and enter to win!!
If you want a headstart on entries, go check out Juppy here!!
Website Facebook Twitter YouTube
*I received a Juppy walker in order to provide a review and host a giveaway. This in no way swayed my opinion of this product and I will keep you updated on Little One's walking progress as well as the physical therapist's opinion!!