Healing with Words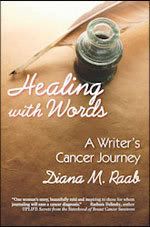 When Diana Raab contacted me for a possible review of her book, Healing with Words: A Writer's Cancer Journey, I was excited and nervous and terrified. I love reading and always have, but I have not read a book in many years (3 year old and all…) and I absolutely have not had to give feedback on a book since maybe high school…and certainly not for the book's author!!
Another of my main fears in reviewing Diana's book is that it deals with her journey through Breast Cancer. I know little to nothing about Breast Cancer, or any Cancer, really. My mom had cystic breasts and sometimes, during her later struggle with alcoholism, she would claim that she had Breast Cancer, but the diagnosis and treatment never came to be so my sisters and I don't really know if there is Breast Cancer in our family. My father's family has some history of Cancer, but it is so slight that I can honestly say that I don't know much about it. However, I thought this opportunity was too important to pass up and wanted to have the chance to share this story with you all in honor of Breast Cancer Awareness Month. If nothing else, I could learn by reading – and isn't that what Awareness Month is all about?!!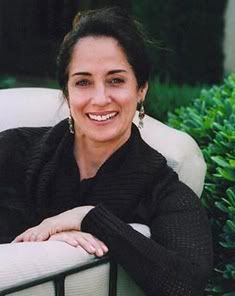 I cannot begin to tell you how engrossed I became into Diana's book from the very first sentence of the very first chapter.
"There is no breast cancer in my family."
I have said that so many times. I believe it most of the time, but it's a feeling like I would imagine if I were ever to take a lie detector test and they ask me my name and I say "Janet" but inside I think "wait, did I just say the right name?" Diana's writing style is so familiar and straight from the heart. I can almost hear the laughter of pretending comfort in her voice through her writing. She has a sense of humor and humility in her writing that you just fly through the pages so fast you don't even know how fast you are reading. I first sat down to "attempt" to start reading one night around 11pm. I had gone out to the car to bring it in and decided to sit in the car for a few minutes just to get started. I had some blogging to do so I was going to do that first and then get to reading. Just sitting in the car for those few minutes, I had flown through the first 20 pages and already felt like I knew Diana and I was new friends with her, but hearing her story for the first time. (I skipped the blogging that night – sorry, followers!! – and just kept reading)… Diana does not try to make things pretty or show that she's super woman through her journey with Cancer twice in her life, but rather she puts it all out in the book and pulls you in with her. I felt like I was with her, sitting in a living room, listening to her tell her story as if nobody had ever asked her and she just needed to get it all out. Diana talks about how journaling is how she processed her feelings, relieved her stress, and kept herself in reality. She encourages those going through their own Cancer journey to find their passion and find a "productive way to ground you in your experience and give voice to your feelings". After each chapter, Diana provides the reader an opportunity to think about their experience and journal if you feel the desire. After Chapter 1, Diana writes, "Describe your family and note if there is any history of breast cancer in your family tree." and, "Write about the day you first thought you had cancer". The book then provides three blank pages for the reader to journal or at the very least – pause – and process. I want to go on and on about how much I enjoyed reading this book and how I wish I could give one to all of the women who are near to my heart and all of the young women I know who don't think about their lives in this manner and how I now think of my own health – as I get close to my 35th birthday… All I can say is that if you want a real woman's view of a real woman's experience with a real woman's health issue that we ALL should know more about…then read. this. book…
From About Diana:
Diana M. Raab, MFA, RN was born in Brooklyn, New York and received her undergraduate degree in Health Administration and Journalism in 1976. A few years later she received her RN degree. After 25 years as a medical and self-help writer, she's directed her creative energy towards nonfiction and memoir writing. In 2003 she earned her MFA in Writing from Spalding University's low-residency program.
Diana has been writing since a very young age. Currently, she teaches creative journaling and memoir in UCLA Extension Writers' Program. She facilitates workshops in journaling and writing for healing around the country. She is a frequent moderator for panels on writing.
She is the author of eight books.
Raab's award-winning work has been published in numerous literary magazines and is widely anthologized.
Healing With Words: A Writer's Cancer Journey –  by Diana Raab Winner (Adult Memoir/Biography) – 2011 Mom's Choice Awards Finalist (Health/Cancer) – Best Books 2010 Awards, sponsored by USA Book News
Distributed by Ingram Book Group, New Leaf Distributing (US/Canada) Bertram Books (UK), Angus & Robertson (Australia)
BUY IT!!
Order from Amazon Order from Barnes & Noble Order directly from Loving Healing Press: 1-888-761-6268 Author's proceeds from the sale of this book donated to benefit the Mayo Clinic Foundation