Daily Deals I would do – KitchenAid!!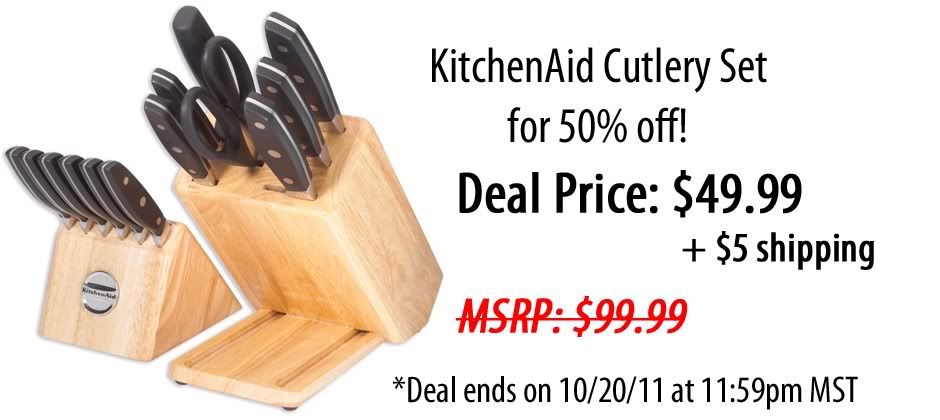 Oh, how I wish I could get this for Hubby!!

As you may know, Hubby is a former chef of 20 years and he's been really bumming lately because a close friend of his (and former partner) is re-opening a restaurant where they used to work together. He would LOVE to have a new set of knives (well, and a restaurant..) to cheer him up!!
You just can't get a better deal on KitchenAid than this price!!
This 14 piece Fine Edge Forged Cutlery Set has EVERYTHING!! The knife blades are made from high-carbon stainless steel and have a comfortable grip with fully contoured triple-riveted handles. For me, the block is the best part!! It's a traditional hardwood block with a pull-away steak block for ease in moving the steak knives to your table!!
The 14-piece set includes: Wood block, (1) 8-inch chef knife, (1) 8-inch slicer,  (1) 7-inch santoku, (1) 5.5-inch serrated utility knife, (1) 3.5-inch parer knife, (6) stamped 4.5-inch steak knives, (1) 8-inch sharpening steel tool, (1) kitchen shear, (1) 4.5-inch santoku, (1) 3.5-inch sanktoku, and (1) set of utility shears. *Hand washing is recommended.
*Deal ends on Thursday, October 20th at 11:59pm MST
*Orders open to US mailing addresses only
*Please allow approximately 2 weeks for delivery
Go get the deal here now!!