Crazy Dog Tshirts – Review and Giveaway (WW)
You saw my review of NachoMama Tees (we loved them!!) so when CrazyDog T-Shirts said we could pick out a t-shirt also…it was my turn!!
I chose this Duck Duck Goose shirt from the Cool Tshirts section –
because I'm cool like dat…haha!!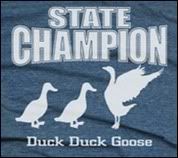 Of course I loved it too!! It's a great quality shirt and bright blue with white lettering and pictures. I've worn it just about every time it's clean now (it's staying pretty!!) and I always get a smile from someone.

It's so hard to choose just one, two, or three shirts from CrazyDog T-Shirts!!
BUY IT!!
Check out all the fun shirts (and more) in these categories!! 
80s T-Shirts  –  All Tshirts  –  Cheap T-shirts  –  Cool T-Shirts  –  Dog T-Shirts  –  Funny Creepers  –  Funny T-Shirts  –  Geek Gifts and Toys!  –  Gift Cards  –  Girls T-Shirts  –  Graphic T-Shirts  –  Hilarious t-shirts  –  Mens T-Shirts  –  Movie T-Shirts  –  New Tees  –  Novelty T-Shirts  –  Retro T-Shirts  –  Saint Patricks Day T-Shirts  –  Sweatshirts & Hoodies  –  Tshirt Designs  –  Video Game T-Shirts  –  Vintage T-Shirts
WIN IT!!
 
CrazyDog T-Shirts wants to giveaway a $15 Gift Certificate to one of my readers!!
The winner cannot have won a giveaway from the CrazyDog T-Shirts site in the past 90 days and cannot own/write a Review/Giveaway blog of their own. Use the Rafflecopter entry form below and notice that the first entry is the ONLY mandatory entry. All others are optional and will increase your chances to win!!
Have Fun and Good Luck!!