ClickN READ Phonics® Review/Sponsor Spotlight!! #CouponCabinHop
This is post 1 of 3 to tell you about my excitement with ClickN Kids!!
CouponCabin's 25 Dayz of Giveawayz will take place from November 1-25. Don't forget to come back and enter then!! There will be over 400 blogs participating!!
Do you worry about your children's education? Do you homeschool, send them to private or public school, supplement their school with additional lessons?!!
There is so much expectation about where your child should be at what age that it can be intimidating as a first time mom…or a mom of a child nearing school age. What about when your child is performing at low average or has special learning needs?!!
Before I actually became a mom I never really thought about public vs. home vs. private school. I just always assumed that my child would go to public school and wasn't really aware that much more was out there. I went to public school growing up, didn't really have any other tutoring or lessons outside of regular homework…and I was just fine!!
When we had to decide on a daycare (before The Boy was even born) I either wanted him in the Baptist daycare I went to or the YMCA. Since Hubby wasn't a Christian yet, we went with the Y. We were pleasantly surprised (and continue to be every day) when The Boy comes home having learned something new and wants to learn more!! He gets excited when you want to sign the songs that spell Red, Green, Blue, Yellow, Orange, and Purple (purple is his least fave)!!
I knew when we were given the chance to review ClickN READ Phonics® and ClickN SPELL® that my boy was going to have a blast!!

I set up our account for the earliest of the earliest lessons (he's 3 1/2) and we started learning!!
ClickN READ Phonics® features ClickN Kid, the dog, and he starts out teaching one letter at a time. We learned Aa and Mm and the sounds they make in the first lesson, added Ss in the second and then Tt in the third (we're stuck here…I'll explain why later). ClickN Kid asks your child to listen to the sound he makes and click on the letter.
He then combines all the letters your child has learned and you go through listening to the sounds and clicking letters again!!
Since my boy hasn't quite figured out the mouse, I taught him to click on the letter on the keyboard and then I secretly click the mouse. This is helpful in the next section when he has to listen to the sound and click the letter on the keyboard!!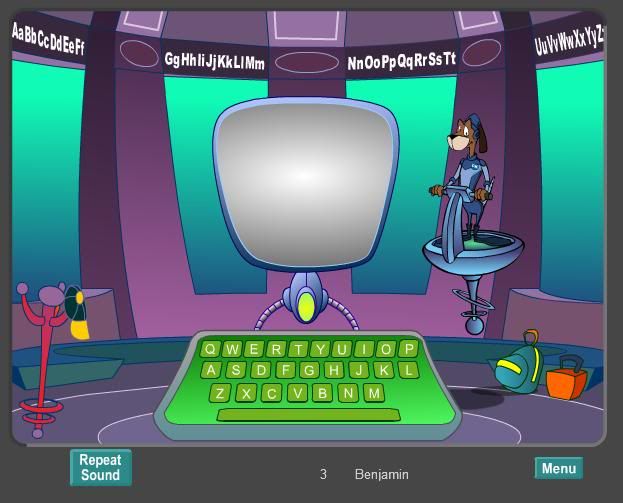 This is where Hubby and I just sit back and watch him go!! The Boy is giggling the whole time and we just love it!!
Next, ClickN Kid flies out the window on his space thingy (:)) and you head on over to the Listening Cube. Here, we pick out more letters from the sounds for a few rounds, but then ClickN Kid starts giving out words. He spells words with the letters you have learned, like "am" and the letters fly onto the screen slowly and he repeats a few times. Then, he gives you this screen: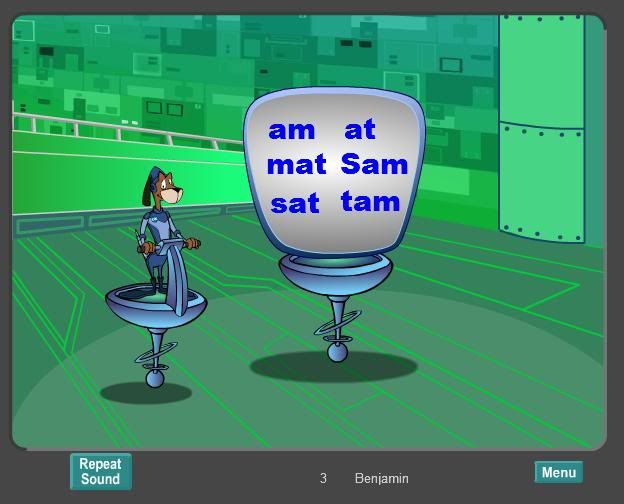 This is where my boy is stuck currently. He did great through the first two lessons and the words in that one, but he gets bored or frustrated or I'm not really sure… He works so hard at daycare some days that I just don't have the heart to make him keep going in the evening or weekends!! He wants to keep trying…so we are…and I'll have to keep you all updated!!
This post is only about ClickN READ Phonics® and we have tried ClickN SPELL® as well!! Click on this link for my review of ClickN SPELL®.
In the meantime, check out ClickN READ Phonics® and ClickN SPELL® below. You can also find them on Facebook and Twitter!!
ClickN READ Phonics® and ClickN SPELL® have offered to give one of my readers the option of either ClickN READ Phonics® – or – ClickN SPELL® as a prize in the CouponCabin's 25 Crazy Dayz of Giveawayz Event coming on November 1!!!
*This post contains affiliate links. In addition, we were provided with free access to ClickN READ Phonics® and ClickN SPELL® in order to provide a review and host a giveaway. Neither of these facts have swayed my opinion of this product and I do plan to continue working with my boy through these lessons!!