Broadcast Bloggers – My favorite affiliate!!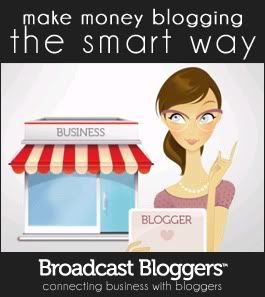 Hey Fellow Bloggers!!
Have you decided to monetize yet? Whether you have not, but you are interested, or whether you have and you need more affiliations, I have a great program for you!!
Broadcast Bloggers is great new(ish) company that is linking Bloggers to Businesses for some really exciting campaigns!!
Every weekday, Broadcast Bloggers sends out a new Daily Deal (you may have seen several of them on my Daily Deals I would do) and there is some exciting deals going on right now!! **Almost ALL of their deals make it through my pledge and I post them!!
Sign up for a FREE Blogger account today. Get matched up with advertisers and start blogging for lucrative commissions, contest awards, exciting trips, and other special incentives!
More exciting news!! Broadcast Bloggers now has a FREE Affiliate program!! Refer others who become Affiliates and earn a percent of their commissions as well. Your referrals still get the same commissions, but you get an additional percentage too!!
Check out the Broadcast Bloggers site for more information and sign up now!!
*This post contains affiliate links. If you sign up, I would truly appreciate it if you would sign up under one of my links included in this post.