How do I love thee? Let me count the ways!
Hubby has two days off together this week and he took some time yesterday to read through my blog.
I guess he didn't realize that I was posting (as much) about him as I have been and he commented that I seem to be pointing out the negatives of our life together.
In all honesty, I am so Blessed to have him and The Boy in my life and there are days when I know I don't deserve them.I love Hubby so much and despise the times when I am hard on him or seem distant or seem disappointed because I'm not!!I am not sure what it is about me (my childhood, my depression, my personality) but I just don't show affection in the ways that Hubby desires (and deserves!!). I'm not talking about intimacy (although I could improve in that area too ;)) but I'm talking about hugging, kissing, spontaneous grab-your-hand moments. I've been that person in the past…and I've been hurt.I don't believe that my (lack of) emotion has anything to do with my love for my husband. I believe there is some disconnect in my emotional mind. I wish I could find a way to show/tell Hubby how much he truly means to me and how much I thank God everyday to have brought us together.(Maybe he'll read this post today and understand a little more)
I came across this meme a few weeks ago and I'm so happy that I did. I want to tell my family's story, but I just thought it might be awkward and out of place…now, who cares, I just want to tell it.Maybe I'll feel better once it's all out!!Let me tell you my family's story about how Brookshire's (yes, the grocery store) changed my life, my marriage, my husband, and my family's future forever!!It's a long story so I'm going to break it up into several weeks, bear with me and take the journey with us… it's really a pretty neat story. (I could be biased)
Last week, we left off with Hubby going back to my hometown to start a new job, while I was 5-6 months pregnant and packing our apartment to move back with him.
I need to backtrack just a tiny bit…
My mother passed away in August 2007 and my younger sister wanted to keep her house so Hubby and I moved in to have a place to live and to maintain it for her. That was especially helpful since we would never have been able to afford the moving expenses of a deposit, rent, etc. for a new place to live.
Now, for more of our story…
Shortly after the Holidays, Hubby was informed that he was no longer needed at the country club. It seems that they may have forgotten to mention that his job was Seasonal – or maybe the former sous chef decided he wanted to come back – who knows?!!
Hubby began looking for a job – maybe not quite as aggressively as I would have preferred, but when the boy came along in February…Hubby was not working.
I had begun working for the State again in November 2007 and earned a promotion in January 2008. Luckily, my earned sick time had remained and I had maternity leave to stay home for eight weeks!!
Just before my leave was up, Hubby began working for a pizza store about an hour away from home (the country club was that far away also…told you my hometown is rough!!!) but he was training in Louisiana for six weeks.
The Boy and I went to stay with him for about a week, but then had to come back home so I could go back to work. Eventually, Hubby came home and began working and things were actually moving along quite nicely until one Friday when Hubby called me and said he had been fired.
I really don't want to go into details, but I was less than pleased with Hubby over being fired and decided I was not going home until I had a plan. I know now that I would handle things differently, but at that time the following was necessary…
I took The Boy to my parents, told them a little about what was going on, and went home to tell Hubby that he had to leave…and leave now!
Well, he didn't exactly take that too well and we talked (loudly, but actually fairly calmly) for about two hours (I don't know, it could have been longer) and he told me that he would have a job by Monday (remember, it's Friday evening now).
I went along with that, partly thinking "there is no way he would be able to do it", partly because I wanted to see how he did it, but mostly because Hubby and I decided when we got married that
We would do whatever it took to keep this marriage intact!!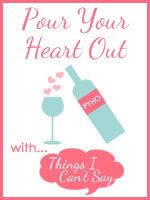 Have you ever come across a time in your life when you just didn't think that things were going to get any better, you've reached the point where you think you are going to put your foot down and that's the final word, only to have your life changed in a way that you never dreamed? Is there one thing, person, place, or event that you can give some credit to for that change?