My Baby Girl…
In the morning, O Lord, you hear my voice;
In the morning I lay my requests before you
and wait in expectation.
Psalm 5:3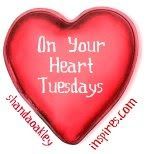 What about you? Have you waiting a long time for your answer? Are you still expecting an answer for your every prayer? Do you have calluses on your knees?
I am not the "best" Christian I can be at all times. I'm new to the scene, you could say. But my husband and I have vowed to raise our son in a Christian home and loving the Lord. We've come leaps and bounds in the past two years and you probably wouldn't recognize us from the people we were four years ago. I pray quietly throughout the day, but I must admit that I am more likely to pray in times of need rather than to praise Him for the blessing we have everyday!!
Our son is three (and a half according to the Chuck E Cheese email we just received) and he was our little blessing in disguise (more on that tomorrow). Let's just say for now that he was a surprise and we didn't have to "try" to get pregnant with him. When he was two we thought we would really like to start trying for another baby, but we were both extremely overweight so we had started a new eating plan (May 2010).
By September, we had each lost a significant amount of weight and things were looking good so we decided that we would consider taking out my IUD in December. Well, it fell out in September…no biggie…must be God's plan!! We casually mentioned to family members that we weren't not trying to get pregnant, but we weren't overly anxious about it either.
Well, it's August 2011 – one year later – and we're still not pregnant.
I know that there are millions of people out there who try so hard for so long to get pregnant with no success, but I can't help but feel a little selfish because I really want my baby girl!! (I even have her name picked out and my husband agrees!)
We've been to the doctor to make sure there were no adverse affects of the IUD falling out and he says I'm healthy, still a little overweight, but nothing in the way of keeping me from getting pregnant.
The Boy has actually started asking about a baby in my tummy and asks "where's my sister" and "where's my brother" because his friends at daycare have new babies!! (Sweet story here: The Boy still sleeps in our bed most nights and we told him that he would have to start sleeping in his race car bed before Mommy could get a baby in her tummy. On Sunday after he fell asleep for nap we moved him to his bed and when he woke up, he came to me and said "I sleep in my race car bed, now you have baby in your tummy? " – sweet boy!!)
Lots of people at church and my family, of course, are asking about the progress because we've asked for lots of prayers and everyone says "It's not your timeline"…and I know that…and I trust that…I'm just a selfish sinner who wants a baby girl to hold and love and dress up and even out the genders in my household (ok, that last one was just me being silly!).
So, if you think about it the next time you pray, say a pray for us…for patience…and perseverance ;)…and a new baby in our family in God's time…
What can I pray for you today?